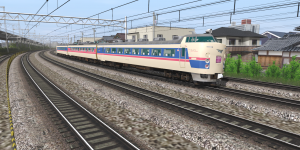 DOWNLOAD This is a reskin of Keinchiro's 485 Series upgraded by Hirochi and modified by Rizky_Adiputra. All the necessary dependencies are included in this package or are avaible on the DLS.
When the Yamagata Mini-Shinkansen opened in 1992, the "Tsubasa" limited express services, were transferred from the "conventional" lines to the Shinkansen. However, since the Shinkansen's 1435mm tracks ended at Yamagata station, the remaining final portion of the original "Tsubasa" service to Akita remained "uncovered".
To fill the gap, in 1992, the "Kamoshika" limited express service was introduced, being operated by 485 Series trains fitted in a dedicated cream, blue and salmon rose livery, nicknamed "Komakusa" (the Japanese "Dicentra Peregrina" flower) and formed in 3 or 5-car sets. Depsite the short lenght and relatively low ridership, the Kamoshika service was quite important, as at the time, the fastest way to get from Tokyo to Akita by train was to take the Tsubasa shinkansen from Ueno to Yamagata and then change to the Kamoshika for the final leg to Akita.
However, this changed in 1997, with the opening of the Akita Shinkansen: now, the fastest way to get to Akita by train was to take directly the shinkansen at Ueno and have a quiet and comfortable one-seat-ride to Akita.
With this, the Kamoshika ridership shrunk, and two years later, coinciding with the extension works of the Yamagata Shinkansen to Shinjo, the service was shortened, now running only between Shinjo and Akita, and downgraded to a non reserved-seating rapid train, before being eventually discontinued with the winter timetable revision of 2002. The last run of a 485 Series in the Komakusa livery was made on the 1st of December 2002.