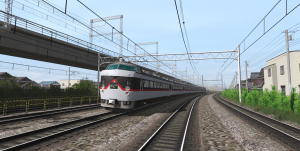 DOWNLOAD This is a reskin of Keinchiro's 485 Series upgraded by Hirochi and modified by Rizky_Adiputra. All the necessary dependencies are included in this package or are avaible on the DLS.
The "Viva Aizu" limited express service was introduced in 1993, running between Koriyama and Aizu-Wakamatsu stations as a "reinforcment" for regular "Aizu" services.
To operate this service, a single 485 Series 6-car set was specially designated, being repainted in a stylish black, red and silver livery (the latter being the same exact tonality as used on the 400 Series "mini-shinkansen" trains).
"Viva Aizu" services officially began services on the 1st of December 1993. While regular weekday schedules ran from Koriyama until Aizu-Wakamatsu, on saturdays, sundays, holidays and other high-tourist-traffic periods, "Viva Aizu" services were extended to Kitakata station, a little further down the line.
One of the cars of the set, MoHa 485-1008, was designated as a special "invitation car", being decorated with regional products to promote and attract tourists to the region.  The "invitation car" was discontinued in 1998 and converted back to a regular seating car, to increase the capacity of the train.
Having one single set for a service however posed several issues: if the dedicated 485 Series set was unavaible (due to a fault or other problems), the "Viva Aizu" service had to be cancelled or operated with another train, often another 485 Series set lent by a nearby depot. Such was the case between July and August 2001, when, due to the unavailability of the dedicated set, as it was undergoing a general inspection, "Viva Aizu" services had to be operated by a 485 Series in the JNR-era livery.
In March 2002, the "Viva Aizu" service was restructured, now running only on saturdays, sundays and holidays, and subsequently renamed "Holiday Viva Aizu".
However, soon later, the "Viva Aizu" service were downgraded and amalgamated into the "Aizu Liner" rapid services, with the last run of the "Viva Aizu" dedicated 485 Series set on the 7th of December 2002.
Trivia:
Due to it's short lenght – 64,4 Kilometers for less than one hour of total "running" time – the "Viva Aizu" service was officially nicknamed "Shuttle Express" and it's often also known with it's full name of "Shuttle Express Viva Aizu".