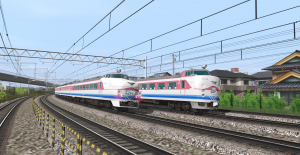 DOWNLOAD This is a reskin of Keinchiro's 485 Series upgraded by Hirochi and modified by Rizky_Adiputra. All the necessary dependencies are included in this package or are avaible on the DLS.
"Hakusan" limited express services were introduced on the 15th of March 1972, running between Ueno station and Kanazawa via the Shin'etsu Main Line.
489 Series sets had been operating the "Hakusan" service since it's inception, as it ran trought the steeply-graded Usui Pass, where all ascending trains had to be pushed by EF63 electric helper locomotives, wich the 489 Series had been designed to be compatible to.
Soon after the JNR privatization, JR East decided to repaint the 489 Series sets operating the "Hakusan" services in a new, more modern livery, replacing the old JNR red-and-cream one.
The new livery had a base of white with salmon rose window band and two-tone blue bands on the lower part of the bodyshell. The new livery was soon applied to all 489 Series sets, replacing the JNR-era one in a few years.
With the opening of the Nagano Shinkansen, on the 30th of September 1997, Hakusan services were discontinued in favour of the Shinkansen, with the dedicated-livery 489 Series sets being subsequently retired.
Trivia#1:
Due to the popularity of the livery, for a limited period of time, between October 2019 and January 2020, KuHa 489-1, wich is preserved at the Kyoto Railway Museum, was repainted and displayed in the "Hakusan" livery instead of it's usual JNR-era one.
Trivia#2:
One of the minigames in Densha De GO! Professional involves coupling an EF63 pair to a "bonnet-style" 489 Series set in the "Hakusan" livery (0:34)
video by うなちん