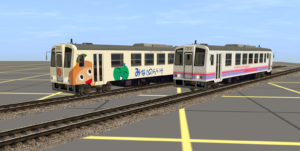 All the necessary dependencies are either included in this package or are avaible on the DLS.
The last railway to get the first-generation Niigata Transys NDCs was the Asa Kaigan Railway. The very short 8.5Km-long line was left uncomplete by JNR in 1980 (wich planned to connect it to the Asa Line, itself handed over to another third-sector railway, the Tosa Kuroshio Railway). The line finally opened as a third-sector railway in 1992.
The Asa Kaigan Railway is Japan's smallest independent railway, and upon it's opening, owned just two railcars: ASA-100 Series unit 101 and ASA-200 Series unit 201 (the -100 series was intended for regular services and the -200 series was intended for tourist services).
In 2008, unit ASA-201 derailed at the line's terminus of Shikishui, and was subsequently scrapped. To replace it, the Asa Kaigan Railway loaned KiHa 40 2110 from JR Shikoku, but returned it later that year, when the railway acquired free-of-charge unit TK-201 from the closed Takachiho Railway.
Reclassified as the ASA-300 Series unit 301, it originally ran in the white, light purple and red livery of the Takachiho Railway (complete with the railway's "TR" logo), but in 2010 it was repainted in a cream livery with the designs of two prefectural mascots: Sudachi-Kun of Tokushima Prefecture, and Ponkan-Kun of Kochi prefecture.
The single ASA-300 Series unit is still in service for the Asa-Kaigan Railway, togheter with the company's only other diesel railcar: the ASA-100 Series.