Requested by Muhamed Mounir on YouTube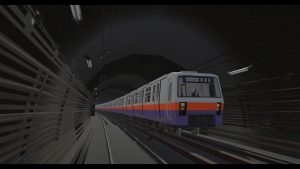 DOWNLOAD All the necessary dependencies are either included in the package or are avaible on the DLS. 
Redistribution of my content and/or conversion of it to Trainz Android is strictly forbidden.
The 6000 Series was built in the mid-1990s for the opening of Cairo's second subway line. Unlike Line 1, whose trains were based on french type MS61 electric multiple units of the Paris RER, Line 2 was to use "proper metro" trains powered by a third rail instead
The construction of the new trains was contracted to two Japanese firms: Kinki Sharyo (wich was already well-known in Egypt as the supplier of a conspicuous part of Alexandria's trams and as the manufacturer of an additional batch of the Alsthom-designed 5000 Series for Cairo Metro's Line 1) and Toshiba. The former was tasked with bodyshell construction and final assembly, while Toshiba supplied the necessary electrical equipment: traction motors, compressors and a GTO-VVVF inverter.
Formed in 8-car sets (two cab cars and six intermediate cars), the first 6000 Series sets were delivered to Egypt in time for the opening of Line 2's first section (Shubra-Mubarak, renamed Al Shohadaa after the 2011 revolution), with additional batches being delivered with evry extension, until Line 2 reached it's current status in 2005.
Currently, the 6000 Series is still the main workhorse of Line 2, altough recently, a small minority newer trains (either 7000 Series trains transferred from Line 3 or a new batch of rolling stock built to the latters' specifications) have been introduced on the line to supplement the 6000 Series.
Trivia:
As Line 2 was served by Japanese-made trains, it earned the nickname of "Japanese-built line" (in juxtaposition with Line 1, wich is nicknamed the "French-built Line"). This is however incorrect, as Line 2's infrastructure work was made by VINCI, a French company and almost the entirety of the designing work related to the line was made by the French.
The "French influence" is also evident on the 6000 Series itself, as it shares little with contemporary Japanese and more with French subway trains – one notable example being the front  arrangment with the classic french-style central driving position and a single large front window, as seen on almost the entirety of French-designed subway trains, both rubber-tyred (Marseille's MPM-76, Santiago's NS-74, Montreal's MR-63…) or with conventional steel wheels (Paris' MF77, Caracas' 10000 Series and later types and the afromentioned Cairo Metro 5000 Series).