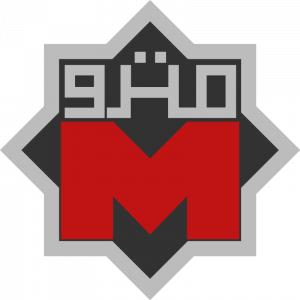 The first subway of the whole African continent, the Cairo Metro operates three lines with a total combined trackage of 87 Kilometers.
Line 1 was the first to open, being inaugurated in 1987, and was built with french technical assistance as a centre-city underground link, in the style of Paris' RER, connecting two commuter railways (one of wich was already electrified) and absorbing the two in the process. As such, Line 1 runs at ground-level for most of it's 44 Kilometers of lenght, only with a short 4,5 Km long underground section in the city center, between Saad Zaghloul and Al Shonandaa stations (formerly "Mubarak", named after the former president, name changed after the revoultion of 2011). As a line built to RER's image, Line 1 runs on 1500v DC via catenary and operates with a fleet of 9-car set 5000 Series trains built by Alsthom  or Kinki Sharyo and derived from the RER's MS61 trains. In more recent years, these were supplemented by a fleet of new trains manufactured by Hyundai-Rotem in South Korea.
Line 2 was inaugurated in 1996 and is Cairo first "true" subway line, connecting the two sides of Cairo city with a tunnel (the city's first) under the Nile River. Line 2 was built with french assistance as well, however most technical equipment was imported from Japan (including the rolling stock), and therefore, Line 2 is ofter (incorrectly) referred to as the "Japanese Built Line", while Line 1 is referred to as the "French Built Line". Line 2 is 21,6 Km long and is electrified via a 750v DC bottom-contact third rail. The fleet of this line is formed mostly of 6000 Series trains, built by Kinki Sharyo with Toshiba equipment in Japan. In recent years, newer trains (either 7000 Series trains transferred from Line 3 or a new batch of rolling stock built to the latters' specifications) were put in service as well.
Finally, Line 3 is the most recent of the trio, being opened in 2012. Currently it serves only the eastern portion of Cairo, intersecting only with Line 2 at Attaba Station. The rest of the line is under construction, including a second cross-Nile tunnel, wich would bring the line on the other side of the city. Line 3 is currently 11,5 Km long and, like Line 2, s electrified via a 750v DC bottom-contact third rail. The fleet of this line is primarily formed by 7000 Series trains built by Kinki Sharyo and derived from Line 2's 6000 Series. Again, recently, newer trains manufactured by Hyundai-Rotem have been introduced as well, for the opening of the "fourth phase" of Line 3, between El Shams Club and Adly Mansour stations.
Currently, several lines are being planned, including an East-West Line 4, a semi-circular Line 5 and a North-South Line 6, wich would run parallel to Line 1. Other transporations means are planned, including a monorail line to the "6th of October City" and a new Light Rail line to Egypt's planned "New Administrative Capital" on the outskirts of Cairo.
The Cairo Metro is owned by the "National Authority for Tunnels" and is operated with support from the Egyptian National Railway, both state-owned companies.
Trivia:
Due to it's reliability and efficiency, compared to other transportation means, the Metro is often referred to as the "only working thing" in the entirety of Cairo city, if not sometimes, in the whole of Egypt.
Line 1


Line 2