Read the whole text. I dare you.
Notice to Trainz Android converters:
Redistributing my content and/or converting it to Trainz Android is strictly forbidden.
All the work and time spent to make the Trainz models avaible on this website is mine. You have no right to profit from it.
Notice to Trainz Android converters and  all other Trainz users:
Due to a constant flux of unauthorized conversions of my content for Trainz Android and equally unauthorized redistribution of the same, by hand of several Egyptian Trainz users, I have decided to scrap all my Egyptian-related projects.
Content made until now (the 5000 and 6000 Serieses of the Cairo Metro) will remain avaible, altough I'll evaluate removing them (and thus the "Egypt" section of my website altogheter) if unauthorized conversion and redistribution of my content will continue.
With this, I am officially scrapping all my current and future projects for Egyptian rolling stock. These included the GA DE900 Diesel locomotives, EMD G12, G16 and G22, the 7000 and 1000 Serieses of the Cairo Metro, and most importantly, my next project, wich would've been the ANF-built ENR Turbotrains.
Rolling stock requests regarding egyptian rolling stock will also be automatically declined. I will not lift a finger for egyptian-related content ever again.
My policy will not be subject to negotiations and will be strictly adhered to until i recieve proper excuses and conversion and redistribution of my content will cease.
I am sorry for those users that came here with all good intentions, just to download and enjoy some unusual and exotic trains on their computers, and for this, I profoundly apologize. However, this is one of the very few ways I have to safeguard my content.
Unfortunately, that's the way it is.
Enjoy what could've been.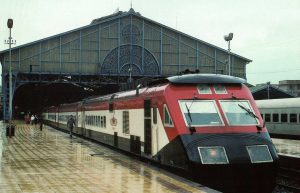 In the near future, you could've enjoyed driving one of these sleek Turbotrains as an high-quality Trainz model, complete with fully furnished interiors, animated doors, custom sounds and maybe even the proper animated driving cab.
You won't.
For that you have to thank all those that keep converting and redistributing my content.