Made in collaboration with TreinspotterJeffrey/Sanyo J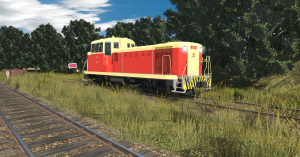 DOWNLOAD All the necessary dependencies are either included in this package or are avaible on the DLS.
Owned by the Denka conglomerate, the single DS-6 unit was manufactured in 1980 by Kawasaki Heavy Industries, a full four years after the last DD16 left the assembly line. Like the Nippon Paper DD521, while the DS-6 is externally similar to standard DD16s, it is also far heavier as well, with a total weight of 56 tons (instead of the 48 of DD16s). Several improvements were also made on the DS-6 compared to the DD16s: notably the cab was fitted with air-conditioning, something highly unusual for a switching locomotive, let alone one for industrial service.
The DS-6 was bought for use in Denka's Omi Plant in Niigata prefecture, shuttling concrete and chemical produces from the plant to Omi station on the Hokuriku Main Line (nowdays the Nihonkai Hisui Line) until 2018, when it was withdrawn.
Soon after, in a very unusual occurrence (especially for a semi-unknown industrial locomotive) it was sold to a Thai company and shipped to Thailand, where it is now reportedly in service, hauling ballast and new rails for the double-tracking works currently in progress thruought the Thai railway network.