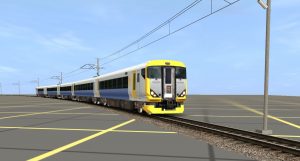 This is a reskin of the E257-0 Series made by Rizky_Adiputra and avaible on his website (jirctrainz.com).
All the necessary dependencies are included in this .rar, included in the original content's package or avaible on the DLS.
DOWNLOAD The E257-500 Series was introduced in 2004 to replace the ageing 183 and 189 Serieses and to supplement the 255 Series on limited express services from Tokyo to the Boso Area.
Built by Hitachi, Kinki Sharyo and Tokyu Car Co., the nineteen 5-car sets were all delivered between July 2004 and October 2005, with the first set entering in service on the 16th October 2004, with the whole fleet allocated to the Makuhari Vehicle center.
The E257-500 Series is generally derived from the E257-0 Series in service on the Chuo Line, but fetaures several differences, namely the motor/trailer ratio, wich was increased to 3M2T, to cope with the steeply-graded undergrond link line between Tokyo Station and the Sobu Main Line; the presence of a gangway on both ends of all trains and the use of an electro-pneumantic brake control, as opposed to the electric-only control of the E257-0 Series. The trains were also fitted in a white, yellow and blue/purple livery based on the one of the earlier 255 Series.
At the time of their introduction, E257-500 Series trains were assigned to the Sanzami and Wakashio limited expresses (on the Sotobo and Uchibo Lines respectively) and with the completion of the deliveries in 2005, the new trains started to run also the Shiosai and Ayame Limited expresses (with the former starting not from Tokyo, but from Shinjuku station) and later also on the Ohayo and Home Liners Zushi, finally replacing the older 183 and 189 Series with the timetable change of the 10th of December 2005.
As of today, all nineteen 5-car sets are still in service, but due to the reduction of express services between Tokyo and the Boso peninsula, surplus E257-500 Series trains are now being used also as "reinforcments" on Chuo Line services, namely the Fuji Excursion train (wich runs trough-services on the Fujikyuko Railway) and other charter trains.
Furhtemore, four E257-500 Series sets are planned to be converted into E257-2500 Series sets for Odoriko limited express services on the Tokaido Main Line.