Requested and made in collaboration with TreinspotterJeffrey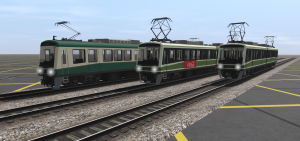 From left to right: current livery (for refurbished cars, 2016-today), Coca-Cola advertisement livery (1996 and 2013-2017), original livery (1990-2018).
DOWNLOAD All the necessary dependencies should be included in this package or avaible on the DLS. Dependencies not mine belong to their respective authors.
Please note that this train was made in Trainz 2019, so it may not work properly on pre-T:ANE versions.
The Enoden 2000 Series was introduced in 1990 both to increase capacity on the Enoshima Line, wich was finally seeing an increase in ridership, but mainly to replace the old and tired 600 Series, wich were Ex-Tokyu DeHa 80 tramcars from the Setagaya Line, built between 1950 and 1953 and bought second-hand by Enoden in 1970.
A total of just three articulated units (a total of six cars) was manufactured between 1990 and 1992 by Tokyu Car Co.
The 2000 Series was designed to be as close to the older 1000 Series as possible, so to simplify maintainance as much as possible. In fact, the 2000 Series shares most, if not all of both it's mechanical (bogeys, articulation, doors, bodyshell…) and electrical (pantographs, traction motors, the resistor control, driving cabs…) components with the 1000 Series.
Nonetheless, the 2000 Series' appearance was extensively redesigned from it's predecessor: the main fetaure of the new train was the aereodynamic head with an huge panoramic front window, designed to enhance visibility of the line ahead.
The first unit, No°2001, entered service on the 24th of April 1990, winning in the same year both the national "Good Design Award" and the local "Fujisawa City Design Award". Units 2002 and 2003 were delivered following suit in 1991 and 1992 respectively.
The 2000 Series was immediately well recieved, with the front panoramic window being extremely appreciated with both the line's passengers, for obvious reasons, and the drivers alike: the largely improved visibility proving extremely useful on a very difficult line, where drivers ought to have eyes on the back due to the numerous level crossing, tight clearances, street-running sections, cramped and crowded stations and many other dangerous spots – a situation further exacerbated in recent times by the large influx of massively unruly and undisciplined tourists.
Another very interesting fetaure of the 2000 Series was it's destination indicator – of the roller-blind type and stylishly placed between the headlights – given that it had to regularly display only two indications ("Fujisawa" and "Kamakura", the line's terminuses), Enoden's management decided to add a few small illustrations to the plain text, wich changed according to the season: cherry blossoms for spring, christmas trees for winter and so on. Therefore, the 2000 Series roller blinds ended up displaying four different seasonal variations of "Kamakura" and "Fujisawa".
In 2013, unit 2002 was fitted with side Coca-Cola advertisements on both cars, a replica of a similar advertisement that unit 2002 already carried in 1996.
By the mid-2010s, the 2000 Series had been serving well the Enoshima Line, but as the cars neared 25 years of age, Enoden decided to refurbish the three units, in a way similar to what had been done earlier to the 1000 Series.
The refurbishment included the changing of pantographs to a more modern single-arm type, the change of livery (from the nice original white and light-green one to Enoden's new standard one of dark green and cream), the fitting of new LED headlights in place of the old halogen lamp ones, and finally, the fitting of an LCD destination indicator, questionably on the top of the car rather than in the original position of between the lights. Luckily, the new LCD destination indicator kept the iconic "seasonal illustrations" of the older roller-blind.
The first car to be refurbshed was unit 2001, wich returned to service on the 28th of December 2016. Units 2002 and 2003 followed suit in 2017 and 2018 respectively.
As of today, all three 2000 Series units are still in service, all having being refurbished and therefore running only in the Enoden standard livery of dark green and cream. Currently, Enoden has no plans to replace the 2000 Series.
Trivia#1
When the 2000 Series was being designed in early 1990, Tokyu Car Co.'s engineers tought to use single-arm pantographs in place of the older diamond/scisssor type ones, in order to save weight. The idea was later abandoned, as (depsite being a well-proven system in Europe), no Japanese railway had yet used a single arm pantograph in regular service. The first Japanese train to do so was JRF's EF200 electric locomotive, introduced soon after, in late 1990 and the Shin-Keisei Railway 8900 Series, introduced in 1993 (both of wich, however, used an european-style single-arm pantograph with a triangular-shaped upper section – Japan's first proper "T"-shaped single arm pantograph was adopted on JR Central's 373 Series, introduced in 1995).
Model Trivia#1
I started making this model with Trainz 2012 and i've finished it in Trainz 2019 (due to the former's content manager no longer working), meaning that this will probably (and hopefully) be my only model made using two different trainz versions.

Model Trivia#2

My first train model with articulated cars.