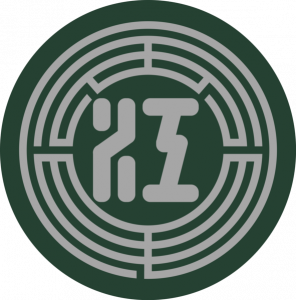 The Enoshima Electric Railway, nicknamed "Enoden" operates the famous Enoshima Line, a 10Km-long, 1067mm gauge railway line electrified at 600V DC wich connects Fujisawa to Kamakura, running along the scenic Shonan coast. The line is entirely single-tracked with passing loops at most stations, and fetaures several "railway attractions" of itself, such as a 450m-long street-running section, the tightest curve radious (28m) of all Japanese railways, a promiscuous road-rail bridge and many others.
Altough it's often considered a tramway line,  the Enoshima Electric Railway has been legally classified as a railway line since 1944; it operates on an exclusive right-of-way (with the exception of the brief street running section), uses an automatic block signalling system (as opposed to tramways' on-sight running) and it uses proper platform-level boarding truought all of the line (again, opposed to tramways' street-level boarding).
The Enoshima Line opened in 1902, between Fujisawa and Katase (today's Enoshima) stations, and was later gradually expanded until it reached Kamakura in 1910. After the war, due to the increase in private automobile ownership and the competition of the faster interurban busses, the ridership of Enoden shrunk, and in the early '60s was in danger of closing. The situation progressively got better from the late 1970s onwards, when the Enoshima Line became a popular day-trip destination for Tokyoites, thanks to it's closeby position (less than one hour by train away) to Tokyo.
The increase in popularity of the railway was also greatly hepled by the countless Movies, TV Shows and Anime fetauring the Enoshima Line, such as Our Little Sister, A Channel, Elfen Lied, Rascal does not dream of a bunny girl sempai and many others.
Nowdays, Enoden has become a tourist attraction in itself, and enjoys an enviable popularity, with day-trippers and tourists (both domestic Japanese and foreign ones).
However, this popularity comes with downsides, as the line's capacity is now being severely stretched, with overcrowding being an increasingly pressing issue. Furthemore, the railway has also been suffering from hordes of massively unruly and undisciplined tourists, wich continuously pose several hazards to the safe operation of the railway.
In 2014 the Enoshima Line was selected as a "Landmark of Civil Engineering" by the Japanese Civil Engineers' Society.
The Enoshima Electric Railway has been  part of the Odakyu Group since 1953. In 2019 it became a wholly-owned subsidiary of the latter.