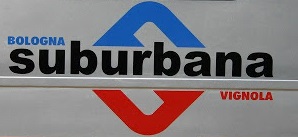 Ferrovia Bologna-Vignola "Suburbana"
A small railway company connecting Bologna station to the town of Vignola with a single-tracked, electrified railway line. Originally opened as the Casalecchio-Vignola Line in 1938, passenger services were operated by the ATC company until 1967, when they were abandoned.  The line continued to be operated for freight trains only until it's definitive closure in 1995.
It was modernized and re-opened in 2003 (with trains now running to Bologna Centrale station) as part of Bologna's metropolitan railway service. It was operated by a newly-formed company, the Bologna-Vignola Railway, wich was nicknamed "Suburbana" ("Suburban") due to to the scope of it's services. In 2009, the Bologna-Vignola Railway was absorbed by the Ferrovie Emilia-Romagna.
Electric Multiple Units