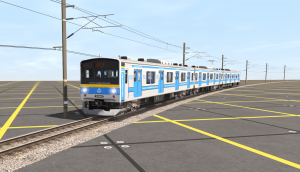 This is a reskin of the Nambu Line 205 Series by Rizky_Adiputra.
All the necessary dependencies are included in this package, avaible on the DLS or from Rizky's website
Reskinned with permission.
DOWNLOAD In 2011 Fujikyuko Railway bought twelve 205 Series cars from JR East, wich had been withdrawn from Keiyo Line services after the introduction of the E233-5000 Series.
Reformed into 3-car sets and extensively refurbished, with the very JR Kyushu-esque styling done by renown designer Eiji Mitooka (wich in fact did design most of JR Kyushu's trains), the four ex-205 Series trains entered service as the "6000 Series" starting from 2012, with the aim to replace the ageing 1000 and 1200 Serieses (ex-Keio 5000 Series trains built in 1963 and bought in the mid-90s) from local services on the Fujikyu Line.
All three 6000 Series sets had originally been built in 1985 as 205 Series cars for Yamanote Line services, were replaced by the E231-500 Series in 2005 and subsequently moved to the Keiyo Line, where they were replaced again by the E233-5000 Series in 2011. Out of the four sets bought by Fuji Kyuko, three were of the "pre-production" type, with the four-section passenger windows inherited by the 201 Series, while the fourth one was one of the "full-production" sets with two-section windows.
With the arrival of the 6000 Series, the most worn-out 1000 Series trains began to be retired, with two sets being removed from service in 2011 and a further two in 2013.
To complete the replacement of 1000 Series trains, in 2019 Fujikyu bought a further nine 205 Series cars, this time of the -3000 Subseries, wich were ex-Kawagoe and Hachiko Line trains formed in the early 2000s by converting 205-0 Series intermediate cars, and were withdrawn in 2018, being replaced by the E231-3000 and 209-3500 Serieses (wich are former Chuo-Sobu Line trains).
Designated as the 6700 Series, the first ex-205-3000 Series set began operations in 2018, followed by two others, wich entered service in 2019.
As of today, only two 1200 Series trains are left in service out of nine 1000 and 1200 Series trains bought in the mid-90s, with the remaining one having been scrapped, stored out-of-service or sold to the Gakunan Electric Railway. Fujikyuko Railway currently has plans to introduce more ex-JR East 205 Series trains.
Trivia:
As of today, the Fujikyuko Railway is one of the very few third-sector local railways (non-former-JNR/JR-line) operating second-hand JR stock. The other notable case is the Joshin Railway in Gunma Prefecture, wich operates six 700 Series 2-car sets, wich are ex-JR East 107 Series trains.