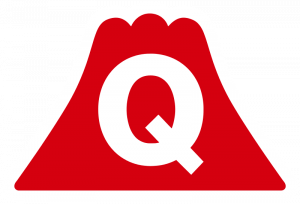 The Fujikyu Railway (a contraption of "Fuji Kyuko (express) Railway"), also known by it's nickname of "Fuji-Q", operates the 26,6Km-long Fujikyu Line, wich connects Otsuki station on the Chuo Line to Kawaguchiko, on the northern side of Mount Fuji.
The Fuji Electric Railway was founded in 1926 as a merger of several small companies operating horse-drawn, narrow-gauge tramways already serving the area. The current railway line was opened in 1929 when the narrow gauge tramways were converted to 1067mm-gauge and 1500v DC electrification, enabling faster and more reliable services.
The line originally terminated at Fuji-Yoshida station (later renamed "Mt. Fuji Station" in 2011), but in 1950 it was extended by a further 3 Km, reaching Kawaguchiko Station. In 1960, the company was renamed to the current "Fuji Kyuko Railway".
During the economic miracle era, to avoid revenue loss related to the decrease in railway ridership (caused by the competition of the private automobile), taking example from major private railways, especially Tokyu Corporation, Fuji Kyuko Railway began to expand it's businnesses, garudally evolving into a financial conglomerate, the "Fujikyu Group".
In 1968, Fujikyu opened the Fuji Highland amusement park, wich has been ever since one of the company's major sources of income, togheter with railway operations.
Currently, the Fujikyu group owns several bus companies (among those, the Fuji Express highway bus company), several taxi companies, three ferry companies, numerous resorts and hotels, amusement parks (among those, the Fuji Higland amusement park, the company's flagship), golf courses, a few cable cars and the Gakunan Electric Railway, another third-sector railway wich serves the opposite southern side of Mount Fuji.
The Fujikyu group also owns the majority of the stakes of Yamanashi TV, a regional television network serving Yamanashi prefecture.
Currently, Fujikyuko's railway network sits unchanged since the 1960s, altough starting from 2011, the railway has undergone a renovation program led by renown designer Eiji Mitooka, wich includes the refurbishment of existing rolling stock and stations, and a general renewal of the company's image. The company owns both limited express trains (wich operate like tourist trains) and local service trains, wich run evry 30 minutes. The entirety of the fleet is formed by extensively refurbished second-hand stock formerly owned by Keio, Odakyu, JR East and JR Central.
Fujikyu also has had long-standing trough-service agreements with JNR and later JR East, wich are still in effect today, with JR East operating both local and limited express thru-services (either extensions of existing services, such as the Narita Express, or dedicated services such as the "Fuji Excursion" trains) from Tokyo to Mt.Fuji Station.
Trivia:
Fujikyu Railway has had a "sister railway" agreement with the swiss Matterhorn Gotthard Bahn since 1991.
Fujikyu Line
Local service commuter trains