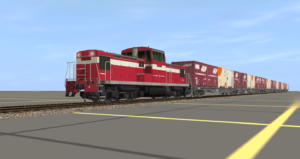 DOWNLOAD This is a reskin of Keimei's JNR DD13 Diesel Locomotive avaible on the DLS. All the dependencies used in this model are the original ones.
In 1966, the Onahama Railway bought a single diesel locomotive, classified DD55-1 and manufactured by Fuji Heavy Industries (wich based it on JNR's DD13 class).
One year later, the company was renamed as the "Fukushima Rinkai Railway", and in 1970, another DD55 was bought: DD55-2, manufactured by Niigata Egineering Co. (the predecessor of today's Niigata Transys). In 1973, the company bought another DD55 manufactured by Niigata Engineering: DD55-3.
By the late 1970s, the Fukushima Rinkai Railway's fleet was then composed of three DD55s and one DD56 (improved version of the DD55) locomotives.
As of today, three locomotvies (DD55-1, DD55-3 and DD56-1) are still in operation on the Fukushima Rinkai Railway. The remaining DD55-2 is currently stored out-of-service, as it had a manlfunction to the engine and it's waiting for repairs.