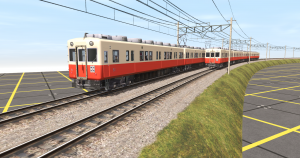 DOWNLOAD This is a Reskin. In order for this train to work, you'll need to download and install first the Hanshin 5101/5103 Series made by Keimei, avaible on the DLS.
Three 4-car sets manufactured by the Mukogawa Workshops between 1974 and 1977. Originally intended to run on an extension that would have connected the Hanshin Nishi-Osaka Line to Kintetsu's Namba Line (a scheme largely identical to today's Hanshin Namba Line), due to various setbacks with the project, they were reassigned to the Hanshin Main Line, where they would have replaced the last remaining single-leaf-doors, non-air-conditioned trains running express services.
After two cars were scrapped due to damages sustained in different accidents, in 1986 the whole 3801/3901 Series fleet was reformed into a single 6-car set, classified 8701/8801/8901 Series for Hanshin Main Line rapid services and a 2-car set (7890/7990 Series) for Mukogawa Line services.
The single 6-car 8701/8801/8901 Series set remained in service on Hanshin Main Line express duties from 1986 until it's replacement in 2008 at the hands of the newly-introduced 1000 Series.
Trivia:
Due to the various similarities between the 8701/8801/8901 Series set and the 8000 Series prototype set,  between the 1980s and the mid-2000s the former was nicknamed the "Fake 8000" by railfans.