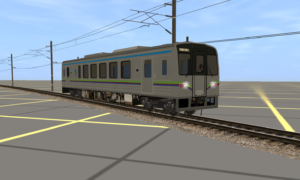 All the necessary dependencies are included in this package or are avaible on the DLS.
DOWNLOAD The IRT355 series was introduced in 1998, ahead of the long-awaited opening of the Ibara Line. Manufactured by Niigata Transys, they are part of the manufacturer's "NDC" ("Niigata Diesel Car") family, and were primarily based on JR West's KiHa 120 (themselves too NDC-type railcars manufactured by Niigata).
They were a slightly longer (18m vs 16.3m) and vastly improved version of the latter; most notably, they ditched the bus-style folding doors for more conventional sliding doors.
Their stainless steel bodyshell was based on the -0 and -300 subseries of the KiHa 120 Series (the -200 subseries had convetional alluminium bodies), and they were all fitted with air-conditioning at the factory.
Depsite all the differences, the IRT355s still retained the KiHa 120's engine: a 6-cylinder, 11040cc, SA6D125H-1 type engine manufactured by Komatsu with a torque converter and automatic gear change, wich allowed for a reasonably fast top speed of 95Km/h.
The whole fleet of 12 IRT355 units was manufactured and delivered in 1998, with all trains entering service one year later, in 1999, when the Ibara Line finally opened.
Another unit, IRT355-201,was added to the fleet in 2005, nicknamed "Yume Yasuragi", this is a specially decorated unit (with a reddish-brown livery designed by famous industrial designer Eiji Mitooka) for special events and tourist trains.
In 2013, unit IRT355-07 was withdrawn from service and two years later, in 2015, it was donated to the Myanmar Railways as part of the JICA ("Japan International Cooperation Agency", the japanese governement body for assistance to overseas countries) efforts in the reconstruction of the Myanmar railway network.
It was reclassified as "RBE3034" (with "RBE" meaning "Rail (car with) Bus Engine"), and re-entered service in 2017 as a "deluxe" (because of the air-conditioning) train for rapid and express services.
Trivia:
"IRT" means "Ibara Railway Train", and "355" is the motor output in CV (metric horsepower).
Bonus Link:
IRT355-07 undergoing conversion at the Myanmar Railways Insein Workshop, from 2427junction.com