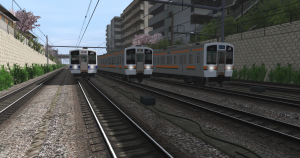 From left to right: 211-0 Series in the "City Liner" livery, 211-0 Series in the Shonan livery and JR Central's newly-built 211-5000/6000 Series.
All the necessary dependencies are included in this .rar, included in the original content's package or avaible on the DLS.
DOWNLOAD Besides JR East, JR Central was also a crucial user of 211 Series cars. Following the success of the two 211-0 Series sets introduced by JNR in 1986, JR Central decided to order new 211 Series sets as well, however, unlike JR East, JR Central decided to do a little "reworking" of the design to better suit it's needs. Designated as the -5000 subseries, to cope with rush hour overcrowding JR Central's new 211 Series sets were built without toilets and with all-longitudinal seating. Front visibility was also improved as well, with the front window on the assistant driver's side being slightly widened. Finally, a more powerful air conditioning system was installed, with two units instead of one. The -5000 Subseries was also designed for an higher M/T ratio, 2M2T or 2M1T instead of JR East's 2M3T.
Manufactured by Nippon Sharyo (a company owned by JR Central itself), the new 211-5000 Series sets were introduced in 1988, formed as 4 and 3-car sets, for both the Nagoya and Shizuoka metropolitan areas. These new sets were painted in the same Shonan livery as JR East's Tokaido Line 211-0s. JR Central's two 211-0 Series sets were also repainted in the Shonan livery shortly afterwards. A few years after the -5000 subseries, JR Central introduced yet another 211 Series derivative: the -6000 Series. These were a handful of 2-car sets that were intended to work as "attached formations" for the -5000 Series or to run by themselves on low-ridership lines.
By 1991, JR Central had a total of 242 cars of the -5000 and -6000 subserieses, dwarfing the eight cars introduced by JNR just a few years earlier. All three subserieses were used interchangeably thruought JR Central's network, mainly on the Tokaido Line between Hamamatsu and Shizuoka and on the very busy Nagoya area section of the Chuo Main Line.
In 2005, several 211 Series sets were used to run temporary special "Expo Shuttle" services between Nagoya and Yakusa Station on the Aichi Loop Railway Line, the nearest station to the grounds of the 2005 world expo. These services ran between the 1st of March and the 30th of September.
As of today, altough having been replaced on most important services by the 313 Series, JR Central's new standard commuter train, the 211 Series still plays an important role in the Tokai area, with all cars still in service. However, replacement plans, in the form of the to-be introduced 315 Series, are already being made.