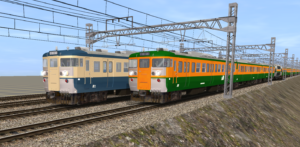 DOWNLOAD This is a reskin of Keinchiro's 113 Series upgraded by Hirochi. All the necessary dependencies are included in this package or are avaible on the DLS.
In 1992, a 113 Series train in service on the Narita Line was involved in a crash at a level crossing with a hopper truck near Osuge station. The truck had been overloaded by four times it's nominal capacity and was running down a steep slope. Due to it's heavy load, it was unable stop before the level crossing, breaking the barriers and being struck by the oncoming train, the 1457 local service, at about 65Km/h. The impact crushed the 113 Series' cab, killing the driver, and derailing the first two bogeys. The truck was destroyed.
After this incident, JR East started reinforcing the cab ends of the oldest 113 Series sets by adding a steel plate over the front, to provide better protection for the driver in case of a crash. Initially these steel plates were unpainted, except for a small front line, but later on they were all painted over. Both Chiba area and Tokaido Main Line 113 Series sets underwent this modification between 1992 and 1994 at JR East's Kamakura and Makuhari rolling stock centers.
The modified sets were nicknamed "Iron Mask trains" by railfans, a reference to the "Man In the Iron Mask" of late 15th century France: an unidentified prisoner that was forced to hide his identity during the reign of King Louis XIV by wearing (as the legend goes) a mask made of iron.
Trivia:
The Osuge incident had a certain effect on JR East.  Trucks and 113 Series trains in the Yokosuka Livery remained a recurring theme in JR East's level crossing saftey commercials from the early 1990s all the way to the late 2000s.
Bonus link:
The aftermath of the Osuge accident, from the JR East worker union's official website.