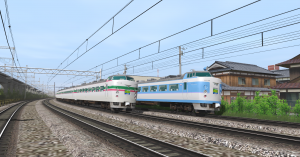 Left: "Grade-Up Azusa" Livery, Right: "Azusa" Livery
DOWNLOAD This is a reskin of Keinchiro's 485 Series upgraded by Hirochi and modified by Rizky_Adiputra. All the necessary dependencies are included in this package or are avaible on the DLS.
Upon it's formation in April 1987, JR East inherited the whole 183 Series fleet from JNR, a total of 353 cars subdivided into three depots: Makuhari, Nagano and Matsumoto.
The sets assigned to Makuhari depot were intended for limited express services between Tokyo and the Boso Peninsula, while the sets assigned to Nagano and Matsumoto were assigned to Azusa and Kaiji services over the Chuo and Shinonoi Lines.
When they were inherited by JR East, all 183 Series trains were painted in the old JNR-era standard cream and dark red livery, so to better d differentiate between services (especially between Asama and Azusa services), in the late 1980s JR East started repainting it's 183 Series sets assigned to Azusa services in a pleasant cream, lilac and light purple dedicated livery.
A second livery for the 189 Series came to be in 1987: due to the staunch competition from Highway express busses running on the Chuo, Kan'etsu and Joshinetsu expressways (E20, E17 and E18), JR East decided to introduce a premium "Azusa" service, dubbed the "Grade-up Azusa". To operate this new service, some 183 Series sets (togheter with another eight 189 Series) sets were extensively refurbished between 1987 and 1989 and between 1990 and 1992. The refurbishment consisted in a general interior renewal, including the fitting of reclining seats, and most notably, a new livery: a base of cream with green and pink horizontal lines.
Shortly after, a new type of train was introduced on "Azusa" services: the tilting E351 Series, wich entered service on the 23rd of December 1993 on dedicated "Super Azusa" services. The E351 Series was intended to replace the oldest 183 and 189 Series sets in service, and to increase the top speed of "Azusa" services on the tortuous Chuo Main Line, thanks to it's tilting system.
The introduction of the E257 Series in 2001 gradually thinned again both the 183 and 189 Series fleet, wich by the mid-2010s had now been relegated to minor workings and charter trains.
The last 183 Series set in JR East service was retired in March 2015. Their Usui-Pass-capable siblings, the 189 Series, lasted a little longer, being retired in 2019.