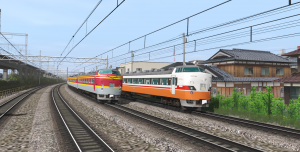 Left: "Ayano" livery, Right: Nikko Livery
DOWNLOAD This is a reskin of Keinchiro's 485 Series upgraded by Hirochi and modified by Rizky_Adiputra. All the necessary dependencies are included in this package or are avaible on the DLS.
In 2003, a surplus 189 Series set, 9-car formation M12 assigned to Matsumoto depot, was converted into a dedicated set for charter trains and various minor express services. Conversion process included shortening the set to six cars, re-classification as set Z45, re-assignment at Koyama Depot, interior refurbishment (inclufding the change of all passenger seats) and most notably, repainting in a distinctive red and grey livery with bright yellow stripes, nicknamed "Ayano". The livery was said to have been inspired by the leafs on trees in the Nikko area during autumn, however it wasn't well recieved by many, especially railfans, due to it's overall garish look.
Set Z45 re-entered service on the 17th of March 2003, running the "Yasuragi Nikko" service from Shinjuku to Nikko via Utsunomiya. Soon after, from April 2003, set Z45 was also used to run the "Marine View Maihama" special rapid service, connecting Koganei to Dinseyland Tokyo (at Maihama station) and Tokyo via the Keiyo and Musashino Lines. 
However, evrything changed in 2004, when JR East and Tobu Railway announced plans for a joint operation of Nikko services. This was an epochal event, wich shook the Japanese railway industry: Tobu Railway had been a staunch rival of JR East and all it's predecessors, all the way to the JGR of the 1910s, with both companies having operated separate and highly competitive limited express services. Historically, Tobu Railway had the advantage of a direct route (JR East trains had to reverse at Utsunomiya), however JR East had a far more dense network, wich meant that JR East Nikko service could (and did) depart at numerous different stations in the Tokyo area.
In 2004, the two companies decided to join forces, with Nikko services being restructured altogheter, now departing at Shinjuku, running on the Utsunomiya line until Kurihashi station where they changed to the Tobu Nikko line for the final leg of the journey to Tobu Nikko station.
The new Nikko services began running on the 18th of March 2006, being operated either by JR East's heavily refurbished 485 Series sets or by Tobu Railway 100 Series sets (in wich case the service was renamed "Spacia Nikko").
Meanwhile, set Z45, wich by then had seen a drop in usage (due to the discontinuation of both the Yasuragi Nikko and Marine Wiew Maihama services) was repainted in the same white, orange, red and brown livery used by the refurbished 485 Series sets and transferred to the Omiya General Rolling Stock center. From now on, set Z45 was used as a spare train in case one of the refurbished 485 Series sets were unavaible.
In 2011, new trains were introduced by JR East for the Nikko Service: two 253-1000 Series 6-car sets, wich formerly were Narita Express trains, being the two "newest" 253 Series sets (having been built in 2002, to increase capacity in anticipation of the FIFA world cup, as opposed to 1990-1996). On the 4th of June 2011, all Nikko services operated with JR East stock were transferred to the 253-1000 Series – both the refurbished 485s and the spare 189 Series set had been retired on the previous day. Soon after, set Z45 was scrapped.