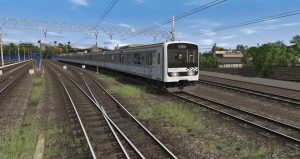 DOWNLOAD All the necessary dependencies are either included in this package or are avaible on the DLS. Soundscript by Rizky_Adiputra.
(Consists are included! Don't bother with placing individual cars!)
This special train was introduced in 2008 by JR East as a testbed for new technological applications and equipment performance improvement trials, and was converted from former Keihin-Tohoku Line 209-0 Series set No.2, assigned to Urawa Depot. Shortened from 10 to seven cars, repainted in a peculiar white livery and christened "MUE-Train" (MUltipurpose-Experimental), this set was fitted with all sorts and types of equipment in use by JR East, including three saftey systems: ATS-P, ATS-SN and ATC-6, enabling it to be used on all of JR East's (electrified) metropolitan-area lines.
During it's testing career, that continues to this day, the MUE-Train has been used to test an improved air suspension system, acquaplaning countermesaures, faster computer communication protocols, studying the impact of snow on braking and accelleration performance, and perhaps most importantly, the MUE-Train was used to extensively test INTEROS, JR East's new rolling stock self-diagnostic system (designed to replace the reliable but dated TIMS), wich has since become the new standard in Japan, being introduced in regular service in 2015 with the E235 Series.