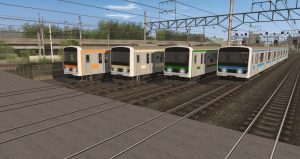 From left to right: training sets assigned to Hachioji, Yokohama, Omiya and Nagano.
DOWNLOAD All the necessary dependencies are either included in this package or are avaible on the DLS. Soundscript by Rizky_Adiputra.
(Consists are included! Don't bother with placing individual cars!)
These peculiar trains are used by JR East to train it's railwaymen. Four sets of this type exist, all formed of two cars, and each one is assigned to a different training center.
By the early '2000s, JR East was still using withdrawn JNR-era rolling stock, such as 113 and 103 Series trains, for training duties, depsite these train types (and their general layout, such as emergency door handles) being now radically different from the various "New Serieses" running in the metropolitan area; therefore JR East decided to replace it's older training sets with something more closer to the actual trains the company was now using.
Six two-car sets were manufactured in 2008 by Kawasaki Heavy Industries and delivered to three Tokyo Area training centers: Hachioji, Yokohama and Omiya. These training sets are identical to the "mainline" 209-0 Series, down to the interior arrangment and upholstery colour. Of course, that's their point as training sets, to be as similar as possible to the mainline stock, however, obviously some difference exist – there are two tell-tale fetaures (besides the 2-car formation): the livery, each of wich is unique to a training set (Chuo Line orange for the Hachioji set, cream white for the Yokohama set and orange and green "Shonan" colours for the Omiya set) and the presence of a red emergency light in place of the standard-issue flare (an actual thermal flare that is lit up electrically in emergency), this is because since these trains are to be used for emergency training, the flare is almost always used, therefore instead of having a flare that has to be replaced each time after it has been used, JR East decided it would've been infinitely simpler to just have a red flashing light wich can be turned on and off.
In 2019 another 209 Series training set was created, this time as a conversion from a withdrawn 209-3000 Series set from the Kawagoe and Hachiko Lines. This fourth training set has been converted to be exactly like the other three, but unlike those, it has not been assigned to a Tokyo area training center, but rather it was sent all the way to Nagano, since nowdays, "Shin-Keiretsu" derived trains are now the mainstay on rural lines as well.
All of the four 209 Series-based training sets are actually capable of moving by themselves, as they're fitted with all the standard necessary traction equipment, however since they are not fitted with train radios, they aren't allowed on mainline tracks (thus, for transfers they have to be hauled by an electric locomotive), meaning the only place they can actually run on their own is on dedicated "training tracks", wich are however always quite short (almost never longer than a couple hundred meters), and as such they'll rarely attain speeds higher than a handful of kilometers per hour. However this is not a problem, since these are meant for emergency and rescue training (such as fire drills). Actual train driving and conductor-duties training is done on dedicated simulators, wich are much more flexible.