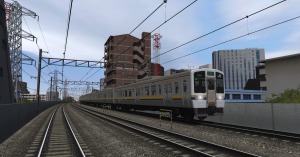 All the necessary dependencies are included in this .rar, included in the original content's package or avaible on the DLS.
DOWNLOAD Due to the introduction of E231-1000 Series, in the mid-2000s several Takasaki and Utsunomiya Line 211-3000 Series sets became surplus. Of these, fourteen 5-car sets (a total of 70 cars) were transferred to the Makuhari Veichle Center to replace the ageing 113 Series sets still running local services on several "Boso area" (the Boso penisnula of Chiba prefecture) lines. These had suffered for a long time from saltwater corrosion damage, as they ran close to the sea. The introduction of stainless steel rolling stock was seen as a possible solution to this problem.
Repainted in a yellow and blue livery, the fourteen 211-3000 Series sets began services on the 21st of October 2006 on five lines: the Narita, Uchibo, Togane, Kashima and Sotobo Lines. These 211-3000 Series sets were always formed as 5-car sets, with sometimes two sets being coupled togheter to form a 10-car set during rush hour services.
However, these sets were always intended as a stop-gap mesaure until a more "permanent" solution could be found. Said permanent replacement came to be in 2009 in the form of former Keihin-Tohoku Line 209-0 Series sets, refurbished and converted to 209-2000 and 209-2100 Series sets for regional services. The first 209-2000/2100 Series set entered service on the 1st of October 2009, first replacing the last surviving 113 Series set by 2011, and then later outright replacing the 211-3000 Series sets as well, wich were completely withdrawn from Boso area services with the timetable change of March 2013, their career having been relatively short and uneventful yet interesting.