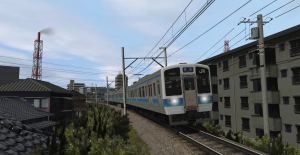 All the necessary dependencies are included in this .rar, included in the original content's package or avaible on the DLS.
DOWNLOAD The -1000 and -3000 subserieses were withdrawn from Ustunomiya Line services in March 2013 and from Takasaki Line services in March 2014. Surviving 211-3000 Series sets still assigned to the Takasaki vehicle center were diverted to Ryomo Line services, replacing some of the very last 115 Series sets operating in the Tokyo Metropolitan Area.
Many surplus 211-3000 Series sets were transferred to Nagano prefecture to replace the last remaining 115 Series sets there. Re-formed in 3-car sets, lightly refurbished (their pantographs having been changed to a more modern single-arm type) and repainted in the pleasant "Nagano Area" light blue livery, the Nagano area 211-3000 Series sets began services on the 15th of March 2013, initially on the Oito Line, but later on the Chuo Line eastern section, the Shin'etsu Main Line and the Shinonoi Line as well.
As of today, JR East still owns 326 211 Series cars, subdivided between Nagano depot (192 cars) and Takasaki depot (134 cars).