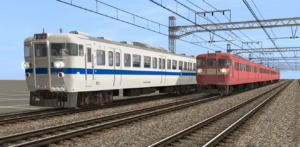 Left: white-blue livery, right: revival livery set K510
DOWNLOAD This is a reskin of Keinchiro's 113 Series upgraded by Hirochi. All the necessary dependencies are included in this package or are avaible on the DLS.
In case of missing dependencies, download this.
Like JR Kyushu, JR East inherited the 415 Series fleet operating on the Joban and Tohoku Lines, and their predecessors, the 401 and 403 Serieses.
As JR East was busy with the replacement of the 103 and 113 Serieses with 205 and 211 Serieses trains, the eastern 415 Series trains' replacement came later than their Kyushu counterparts.
Said replacement initally came in the form of E501 Series trains, derived from the DC-only 209 Series, wich introduced in 1995 to replace the older trains, but due to high manufacturing costs, production stopped in 1997 at only eight 10+5 Series sets made, but depsite the small number, they managed to replace the last 403 Series sets operating on the Joban Line, as the last was retired in 2001. (the older 401s had already been retired in 1991).
In 2001, a 415-0 Series set was repainted in the JNR reddish-brown "AC/DC livery", similarily to what JR Kyushu had done a year earlier on it's 415 Series set FM-5, but unlike the latter, JR East's set K510 was repainted back to the white and blue livery shortly after.
By the early 2000s, most 415-0s were now old and obsolete, so a definitive replacement took form: the E531 Series.
Introduced in 2005 and based on the DC-only E231-1000 Series, the E531s entered service on the Joban Line in the same year, replacing the 415-0s. Production of the new trains was formidably fast, and the E531 replaced the last remaining 415-0 Series set in serivce on the Joban Line in 2007.
While most 415-0s were scrapped, two surplus 415 Series (-500 subseries with all-longitudinal seating) 4-car sets were transferred to JR Kyushu in 2009, where they started running alonside their "native" counterparts.
Production of the E531 Series continued steadily, now to replace the rest of the 415 Series fleet – the more modern (compared to the -0s) 415-1500s, with the final JR East 415 Series (a -1500 subseries set) being retired in 2016.