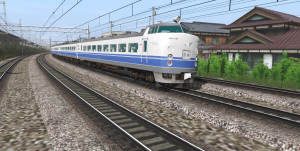 DOWNLOAD This is a reskin of Keinchiro's 485 Series upgraded by Hirochi and modified by Rizky_Adiputra. All the necessary dependencies are included in this package or are avaible on the DLS.
These were two ex-Niigata Depot sets that were transferred to Katsuta depot in late 2002. Re-classified as sets K40 and K60, the two were also repainted in a distinctive white and blue livery, nicknamed "dolphin". Both sets were intended for charter and school excursion services in and around the Tokyo Metropolitan Area and in the Tohoku region, but were also sometimes used for "regular" express services, owining to their comfortable interiors (wich by some railfans were judged far better than the one used on the far newer E653 Series operating "Fresh Hitachi" services in the same area). Both sets ran mainly on the Joban Line and the Tohoku Main line, but sometimes they were also spotted on the Chuo Line.
With the rationalization of rolling stock dedicated to charter services, in early 2013, both "Katsuta" livery sets were written-off and sent to Koriyama for scrapping.