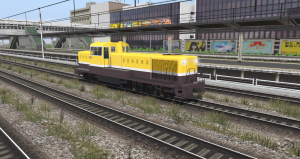 DOWNLOAD All the necessary dependencies are either included in this package or are avaible on the DLS.

One of the earliest "modern" tourist trains, the "Nostalgic Wiew Train" began services in 1990, running on the scenic Gono Line. The train was formed of three 50 Series coaches hauled by DE10 1204, repainted in a yellow and dark brown livery matching the coaches' one.
Services of the "Nostalgic Wiew Train" were relatively short-lived, ending in 1996 and replaced shortly after in 1997, by the much more frequent "Resort Shirakami" rapid trains run by specially converted KiHa 48 diesel multiple units (and later HB-300 hybrid MUs).