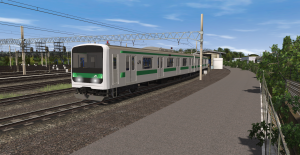 DOWNLOAD All the necessary dependencies are either included in this package or are avaible on the DLS. Soundscript by Rizky_Adiputra.
(Consists are included! Don't bother with placing individual cars!)
This four car set was built in 2000 as a training vehicle for JR East's Comprehensive Training Center in Shirakawa City, Fukushima Prefecture, where the general "basic" training of all of JR East's aspiring railwaymen is conducted (wether for drivers, conductors, maintainance of way or rolling stock, both for Shinkansen and conventional lines).
Formed as a full 4-car set, and made with bodyshells identical to the AC/DC E501 Series, but fitted in an unique green livery, the E991 Series is probably JR East's most unique piece of rolling stock, especially considering it can't move on it's own!
That's right, evrything on the E991 Series is a mockup, incluiding the pantograph, traction inventers and so on. The cabs are barebone, being fitted only with the most basic of training-necessary equiment and in some parts of the intermediate cars interior panneling is seemingly missing as well! Even the "E991 Series" designation is a mock-up: officially, this vehicle is not even legally considered a "train", depsite being externally identical to one, and as such never recieved an official series number – "E991 Series" is only written on the in-car number plate stickers. The E991 Series is also fitted with a proper working LED destination display, and is equipped with a ROM with station names from the Tokyo Metropolitan Area (such as Chiba-Minato).
Shirakawa's E991 Series is used for all sorts of training (from conductor to rolling stock maintainance), and it's positioned on a 500m-long stretch of actual 1067mm-gauge track, completely isolated from the rest of the railway network (JR East's Shirakawa Training Center is itself three kilometers away from the closest railway station – Shirasaka station on the Tohoku Main Line) but fitted with all the equipment that is found on mainline railways, such as signals, ATC balises, a 40m-long reproduction of a station platforms and even a proper catenary (altough unpowered!). The E991 Series can actually move up and down this short stretch of track, altough since it's unpowered, it has to be push and pulled by something else, such as a road-rail vehicle.
Obviously, since it's deep inside a restricted area, photos of the E991 Series are extremely scarce, and the train itself may only be seen by the pubblic during events and open days organized by the training centre itself.