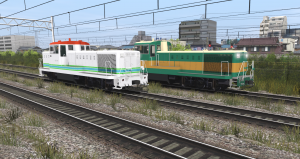 DOWNLOAD All the necessary dependencies are either included in this package or are avaible on the DLS.
These are used exclusively for JR Hokkaido's "Norokko" tourist trains, a set of a DE10 and (generally) four passenger cars converted from 50 Series coaches that are used interchangeably on three different services: Kushiro Shitsugen Norokko (on the Kushiro Line), Ryuhuo Norokko (Senmo Line, only in the winter season) and the Mashike Norokko (on the Rumoi Main Line). The "Norokko" fleet of DE10s is formed of two units: nos. 1660 and 1661, both assigned to Kushiro depot.
Originally, when regular "Norokko" services began in the late 1990s, the locomotives (and the cars) were fitted in a rather "cold" white livery with blue and light green lines, wich was later replaced in the early 2000s by a warmer dark green and dark gold livery, wich is still worn by both locomotives to this day.
Trivia:
Originally, "Norokko" services, as sightseeing trains, had a commercial speed of only 30Km/h and as such were officially advertised as "the slowest trains in Japan". This was later increased to 40Km/h and finally to the "line speed" of 70Km/h to avoid interfering with other more "regular" services.