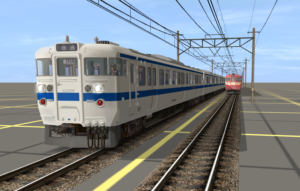 left: JR Kyushu standard livery, right: set FM5 revival livery.
DOWNLOAD This is a reskin of Keinchiro's 113 Series upgraded by Hirochi. All the necessary dependencies are included in this package or are avaible on the DLS.
Upon it's formation in 1987, JR Kyushu inherited all of the 415 Series trains in operation in Kyushu from JNR. This included the 415-0s and the 415-1500s in both original reddish-brown and white liveries, and their predecessors too: the 421 and 423 Serieses.
JR Kyushu continued the "livery change" of the 415 Series trains, with a small modification: the addition of a second, thinner blue line above the doors; a livery that inspired the one that was applied shortly after on JR Kyushu's local DMUs such as the KiHa 40 and KiHa 52s.
Excluding the DC-only 103-1500 Series for the Chikuhi Line (and Fukuoka Subway trough-services), in the late 1980s the 415 Series was JR Kyushu's only electric multiple unit, and by then, the 415-0s were becoming increasingly obsolete and inadequate for mainline services. As such, the first train designed by JR Kyushu was to be an AC suburban train: the 811 Series, wich entered service in 1989, to replace the 421 and 423s and to displace the 415-0s to less-utilized, local lines.
After the 811 Series, the continuous introduction of new serieses of AC suburban EMUs (the 813 Series of 1993, the 815 Series of 1999 and the 817 Series of 2001) slowly, but steadily eroded the 415 Series fleet, with the 421 and 423 being retired in 1996 and 2001 respectively.
This "erosion" was slowed when a few surplus JR East 415 Series (-500 subseries with all-longitudinal seating) from the Joban Line were transferred to JR Kyushu in 2009.
For the celebration of the new millenium in 2000, a single 415 Series set, FM-5, was repainted by JR Kyushu into the old JNR reddish-brown "AC/DC livery", wich it carried until it was replaced in 2012.
As of now, there are very few 415-0 Series sets in service (all in 4-car sets used on local services on regional lines), and they'll be retired soon, as their replacement, the ugly 821 Series entered service in 2019.
There is not yet a "planned replacement deadline", but it'll be a matter of a couple years before 415-0s will disappear from Kyushu's tracks, altough 415-1500s might last a little bit more.