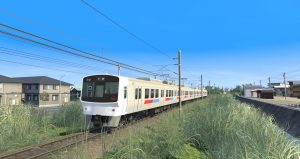 All the necessary dependencies are included in this .rar or are avaible on the DLS.
DOWNLOAD These were introduced in 1989 as JR Kyushu's first suburban train design, and were intended both to replace ageing JNR-era 421 Series trains and in preparation for a planned increase of rapid services between the two metropolitan areas of Fukuoka and Kitakyushu.
The overall structure of these trains was mostly derived from the 415-1500 Series trains JR Kyushu had inherited from JNR, a stainless steel bodyshell with three doors and an FRP front mask. However, the similarities ended there, as the 811 Series was completely redesigned from older stock. The most striking difference is in the FRP front mask itself, wich was extensively redesigned to a pleasant rounded, semi-aereodynamic shape, intended to give "a sense of speed", however there are also many more "subtle" differences, including a different door placement and completely new traction equipment.
Unlike their 415-1500 Series predecessors, wich were AC/DC multivoltage trains, the 811 Series were designed from the start to be AC-only trains for JR Kyushu's 20Kv 60Hz AC catenary, and as such, they're limited to Kyushu island only, whereas the 415 and 415-1500 Serieses could also travel to Shimonoseki, on Honshu island, via the Kanmon tunnel, wich is electrified at 1500v DC.
Also unlike the 415-1500 Series, the 811 Series was fitted with a more modern thyristor phase control, similar to the one used by JR East's 719 Series trains built at around the same time, instead of the older resistor control.
Depsite all the differences, the 811 Series was designed to be operable in multiple units with older stock as well, including the 415-1500 and 415 Series and even the much older 421 and 423 Serieses, and as such had it's performance tweaked to match the formers' one.
As it was intended for rapid services, the 811 Series was fitted with cross-seating thruought. The FRP front mask also fetaured a front door, wich however wasn't intended as a gangway, but rather as an emergency exit.
Manufactured by Kinki Sharyo and Hitachi, with partial assembly done at JR Kyushu's Kokura Workshops, the first four 811 Series 4-car sets (numbered as PM1 to PM4) were built in 1989 and began services in time for the start of the Asia Pacific Exibition, wich was being held at Fukuoka, in July of the same year. A further 10 sets (PM5 to PM15) were delivered in 1990, followed by set PM16 in 1991 and set PM17 in 1992.
A further eleven sets, PM101 to PM111, were delivered between mid-1992 and early 1993. Officially classified as the -100 Subseries, these were nearly identical to standard 811 Series sets except for the interiors, wich had undergone some minor modifications to improve the passengers' flow, as this latter batch was intended more for local and proper "suburban" services rather thar rapid services.
Thus, by late 1993, JR Kyushu's 811 Series fleet was formed of 28 4-car sets totalling 112 cars, with the whole fleet being assigned to Minami-Fukuoka depot.
As of today, the service patterns of the 811 Series haven't changed much since the 1990s, with the whole fleet being mostly used on rapid and local services on the Kagoshima Main Line, between Moji and Arao, via Kokura and Hakata (Fukuoka). 811 Series sets are also often seen on the Nippo Main Line and on the Nagasaki Line during morning and evening rush hours. Formerly, 811 Series sets were also used on the Sasebo Line and in 2016 some sets were also briefly lent to Oita, for services in the area.
As of today, the whole 811 Series fleet is in service, minus one set (PM2) damaged in an accident and subsequently scrapped. As they've reached 30 years of age, JR Kyushu has started a refurbishment program for the whole series, wich includes replacement of the traction equipment with IGBT-VVVF inverter with SiC components and a new "Mitooka-style" livery, and therefore, the 811 Series will remain in service for the forseeable future.
Trivia #1
Thanks to it's modern control and traction equipment, JR Kyushu's designers estimated that an 811 Series' energy consumption was about 30% lower than a 415 Series set running a similar service.
Trivia #2
811 Series were designed to be easily operated also as 3-car sets just by removing the intermediate SaHa trailer car, however this was never done. Earlier plans to produce a 2-car version also never came to fruition.
Trivia #3
The non-damaged cab end of set PM2, wich was involved in an accident in 2002, has been cut and put on display at the Kyushu Railway History Museum in Moji, and was subsequently converted into a simulator by the famous Ongakukan company.
Trivia #4
Speaking of simulators, an 811 Series set is the train of choice for what is probably the longest, most grueling and tedious driving session ever made in a Densha de GO! game: an all-stop local service calling at all the 38 stations between Sasebo and Hakata in Densha De GO! Professional 2 – a total of nearly two hours of continuous driving!
Bonus video:
A demonstration of the fully functional ATS-SK system on the afromentioned Kyushu Railway History Museum 811 Series simulator.