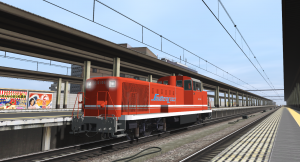 DOWNLOAD All the necessary dependencies are either included in this package or are avaible on the DLS.
This unit, No.1131, was assigned to haul the "Panorama Liner Southern Cross", a joyful train formed of six converted 12 Series coaches wich began services in 1987. Two locomotives were assigned to haul this train, both stabled to Oita depot and painted in a livery matching the coaches' one: ED76 78 for electrified lines and DE10 1131 for non-electrified lines.
The "Southern Cross" operated until 1996, when due to the old age, the coaches were withdrawn and scrapped, togheter with ED76 78. DE10 1131 was instead repainted into the standard red-and-gray livery and operated for a few years more on "regular" services until it was withdrawn and subsequently scrapped in 2001.