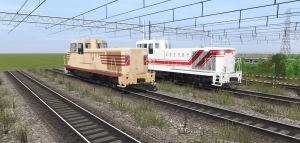 DOWNLOAD All the necessary dependencies are either included in this package or are avaible on the DLS.
This quite curious story that began in March 1987, when "Ariake" express services operated with 485 Series electric multiple units were extended from Kumamoto station to Shuzenji Station on the Hohi Main Line. This however posed a problem, as the Hohi Main Line had not been electrifed yet. To cover the final "stretch" it was decided to have a DE10 diesel locomotive haul the EMU back and forth from Kumamoto station.
DE10 1755 was choosen for the job and was thus subsequently repainted in a cream and dark-red livery matching the 485 Series' one. A generator car, converted from a standard 12 Series coach (wich however retained the standard blue livery with white lines), was also inserted in the formation (between the DE10 and the 485 Series) to provide electricity to the EMU, to keep interior lighting, air conditioning, door mechanisms and so on operating even on non-electrified lines.
Soon enough, the 12 Series generator car was replaced by the much more compact package offered by a Yo 8000 caboose, just one of the plethora of surplus cabooses made useless when conductors were abolished for freight trains in 1986.
Soon after, in 1988, JR Kyushu's brand-new 783 Series "Hyper Saloon" express EMUs began working many express services, among those, the "Ariake" ones. At the same time, another DE10 was assigned to these quirky services: unit 1756, wich was repainted in a whitle livery with red lines to match the new trains' one. For a couple of years, both 485 and 783 Series trains coexisted on Ariake services, being hauled by DE10s in respective matching colors, but it wasn't uncommon to see the JNR-livery DE10 hauling a 783 Series or vice-versa. Eventually, when Ariake services were standardized to the 783 Series, DE10 1755 was repainted in the standard red-and-gray livery for diesel locomotives and moved to less notable services. Meanwhile, "Hyper Saloon" livery DE10 1756 continued this particular service until 1994, when Ariake services were cut back to Kumamoto station. Like DE10 1755, DE10 1756 was also repainted in the standard red-and-gray livery for diesel locomotives and moved elsewhere. Eventually, the Hohi Main Line was electrified in 1999, eliminating the need for diesel traction to reach Shuzenji station.