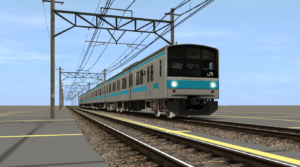 This is an update of the Hanwa Line 205-1000 Series made by Kurotrick on Rizky_Adiputra's 205 Series base.
All the necessary dependencies are included in this package, avaible on the DLS or from Rizky's website
Reskinned with permission.
DOWNLOAD In 1988, JR West ordered a few more 205 Series sets from Kinki Sharyo, for use on local services on the Hanwa Line.
Classified 205-1000 Series, their main difference between standard-production 205-0s was with the asymmetrical front windows, wich were rearranged: the thin one was moved on the driver's side, and the wide one was moved to the assistant driver side and was enlarged as well, to improve the front wiew for passengers, as the Hanwa Line passes trough some scenic spots.
There were some less notable differences also with the electro-mechanical part of the train: to maintain a maximium speed of 110Km/h still with the "low speed" gear ratio, the DC motors had to be changed from the standard MT61 type to the WMT61A type, wich was a modified, higher-speed version of the former.
A total of only five 4-car sets were introduced in 1988. Eventual additional orders for 205 Series sets were later changed to the more advanced, JR West-designed 207 Series.
Togheter with former JR Kyoto-Kobe lines 205-0s, the 205-1000s were all transferred to the Nara Line in 2018, where they entered service on the 18th of March.
Altough JR West hasn't explicitly announced a replacement for 205 Series trains, a huge order of brand-new 227 Series trains is just around the corner, wich will surely replace all the JNR-designed stock still in operation in the Kansai region.