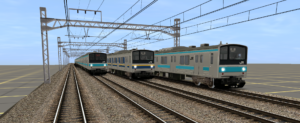 (from left to right: the "second" Hanwa and Nara lines livery, JR Kyoto-Kobe Lines "321-Series-style" livery and the original "Keihanshin" blue for the JR Kyoto-Kobe and Hanwa Lines)
This is a reskin of the Nambu Line 205 Series by Rizky_Adiputra.
All the necessary dependencies are included in this package, avaible on the DLS or from Rizky's website 
Reskinned with permission.
DOWNLOAD Among the trains inherited by JR West when it took over from JNR on the 1st of April 1987, there was a small fleet of four 205 Series 7-car sets for the "Keihanshin Line" (the nickname for local services between Kyoto, Osaka, Kobe, Himeji and Nishi-Akashi, later split into the "JR Kyoto" and "JR Kobe").
In 1991 the 207 Series, JR West's first own design for a commuter train, entered service on the JR Kyoto and Kobe lines to replace the worn-out 103 Series trains, wich were fully replaced by 1994, and in 2005, it's improved derivative, the 321 Series, wich was designed especially to replace the 201 and 205 Series, entered service, completely replacing older trains by 2006.
Both the replaced 201 and 205 Series trains were refurbished and transferred to other lines: the 201s to the Osaka Loop Line and the Yamatoji Line, and the 205s were re-formed into 4, 6 and 8 car sets and transferred to the Hanwa Line, where they joined their "panoramic" relatives ordered by JR West in 1988: the 205-1000 Series.
The former Tokaido Line 205s also kept their "Skyblue" color upon transferral to the Hanwa Line; as it was JR West's company color, it acted as a "general livery", rather than a "line-dedicated livery".
In 2010, as 225-5000 Series introduction was delayed and 221 Series trains had already been transferred to other lines, the 207 and 321 Series trains had to temporarily run rapid services on the JR Kyoto and Kobe Lines.
To act as a stop-gap mesaure, the four former Tokaido Line 205s were re-formed into 7-car sets re-introduced on their "original" line, repainted into a dark blue and orange livery based on the one of the 321 Series' trains wich displaced them a few years earlier. In 2013, as enough 225-5000 Series trains finally entered service, the Tokaido Line 205s were re-formed into 4, 6 and 8 car sets and re-transferred back to the Hanwa Line, where they were repainted again in their "skyblue", altough with a couple of thin orange lines on the front to distinguish them from 205-1000 Series trains (wich they re-met too!). Upon this second transfer, the 205 Series' destination indicator was also changed from an older roller-blind type to a more modern LED-type.
Five years later, in 2018, both 205 and 205-1000 Serieses were replaced on local services by newly-built 225 Series and "de-classed" 223 Series trains (once used for rapid services), and were transferred to the Nara Line to replace the last surviving "original condition" 103 Series trains. Both 205 Series types were re-formed into 4-car sets and entered service on the 18th of March 2018.
Altough JR West hasn't explicitly announced a replacement for 205 Series trains, a huge order of brand-new 227 Series trains is just around the corner, wich will surely replace all the JNR-designed stock still in operation in the Kansai region.