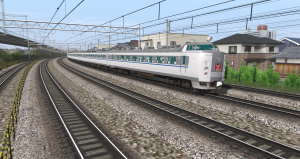 DOWNLOAD This is a reskin of Keinchiro's 485 Series upgraded by Hirochi and modified by Rizky_Adiputra. All the necessary dependencies are included in this package or are avaible on the DLS.
These were two 485 Series 8-car sets refurbished in 1996 ahead of the opening of the Hokuetsu Express Hokuhoku Line, an unique new high-speed-capable, yet narrow gauge, line built as a direct connection between Naoetsu and Echigo-Yuzawa.
The two 485 Series sets, classified V01 and V02, had ungergone a light renewal of the interior arrangment, the fitting of the ATS-P saftey system and were also repainted in a new, more modern livery, derived from the "Café au Lait" one used on JR West's 183-200/700/800 Series sets (wich were ex-485 Series with their AC/DC multivoltage equipment removed, making them DC-only trains) but with grey in place of the cream-brown.
The two "Hakutaka" 485 Series sets began service on the Hokuhoku Line when it opened on the 22nd of March 1997, running at a maximium speed of 130Km/h, wich, depsite being absolutely not a low speed for narrow gauge trains, was still however slower than the 485 Seires' counterparts, the 681 Series, with both JR West and Hokuetsu Express units being capable of a 160Km/h top speed.
In 2002, express services on the Hokuhoku Line were all upgrated to a 160Km/h top speed and reassigned to 681 and 683 Series trains, the latter ones having been introduced in the same year especially to replace all the non-160Km/h capable stock in service on the Hokuhoku Line, including the two 485 Series "Hakutaka" sets, wich were retired on the 23rd of March 2002.