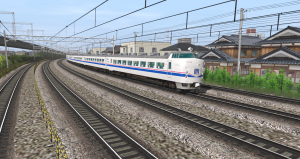 DOWNLOAD This is a reskin of Keinchiro's 485 Series upgraded by Hirochi and modified by Rizky_Adiputra. All the necessary dependencies are included in this package or are avaible on the DLS.
This livery was introduced in 1989 on selected 485 Series sets intended for use on the newly-introduced "Super Raicho" services, running between Osaka and Kanazawa at a maximium speed of 130 Km/h. Originally formed in 7-car sets, the dedicated 485 Series trains (wich had been duly lightly refurbished and upgraded) were soon extended to nine cars and later to ten (formed as a 7+3-car set), after the electrification of the Nanao Line in 1991. In 1995, with the spring timetable change, JR West's brand-new 681 Series trains joined the 485 Series on "Super Raicho" services.
In 2001, a general reorganization of "Raicho" services was made, with the largely similar "Raicho", "Super Raicho" and "Thunderbird" services being merged togheter to form the current set of "Thunderbird" limited express services. At the same time, 683 Series trains (derived from the 681 Series) were introduced to replace older rolling stock on re-organized services, with "Super Raicho" 485 Series sets making their final runs on the 2nd of March 2001.