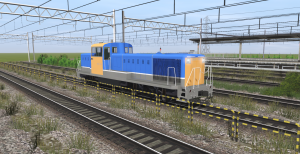 DOWNLOAD All the necessary dependencies are either included in this package or are avaible on the DLS.
Unit 1152 was assigned to haul the "Kinokuni Seaside", a tourist rapid service wich ran from Tennoji Station in Osaka to Shirahama Station on the Kinokuni Line. The train was formed of four passenger cars converted from three 12 Series coaches (one of wich was converted into a cab car, an extremely rare thing for Japanese railways) and a single 24 Series coach, wich was converted to a panoramic car, all painted in a matching blue, grey and orangeish-cream livery with white accents, colours deemded "typical" of the Nanki region (the southern portion of the Kansai area, wich the train served). The Kinokuni Seaside began services in 1999 and ran until August 2007.
After the withdrawal of the Kinokuni Seaside train, DE10 1152 was repainted into the DE10's standard red-gray livery and was returned to "conventional" shunting and maintainance services. It was spotted last year, being hauled by an EF65, in an almost pristine condition, a probable sign of a very recent overhaul wich means that DE10 1152 is, with all due probability, still in regular service.