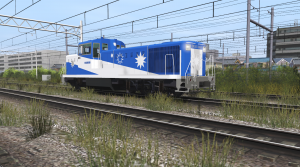 DOWNLOAD All the necessary dependencies are either included in this package or are avaible on the DLS.
This locomotive is assigned to the "Okizumo Orochi" tourist train running on the Kisuki Line, running between Kisuki and Bingo-Ochiai stations via Izumoshi station. The Okizumo Orochi began operations in 1998, formed of two converted 12 series coaches and DE10 1161, all painted in a matching blue and white livery with 10-point star motifs (a liverty overall partially inspired by the famous "Night on the Galactic Railroad" novel by author Kenji Miyazawa).
Due to the popularity of the train, a second locomotive was repainted in the Okizumo Orochi Livery: DE15 2558, wich has since been used interchangeably with DE10 1161. Both locomotives are still in service in their "Okizumo Orochi" livery, and sometimes are also used for non-tourist duties, such as empty stock movments or maintainance trains.