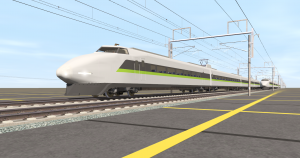 All the necessary dependencies are included in this .rar, included in the original content's package or avaible on the DLS.
DOWNLOAD Due to JR West being far less wealthy than JR Central, on the San'yo Shinkansen, the 100 Series survived relatively longer than their counterparts on the Tokaido Shinkansen, being completely reassigned to Kodama services by the early 2000s. As these services have a far lower ridership than the faster Hikari and Nozomi services, starting from 2000, JR West's 100 Series sets were shortened to 6 and even 4-car sets. At the same time they were repainted in a distinctive dark grey and lime green livery, intended to distinguish trains running Kodama services from those running Hikari and Nozomi services, wich kept the blue-white livery.
A similar treatment was also applied to some of the remaining 0 Series sets, wich were also shortened to 6-cars and repainted in the dark grey and lime green livery. Three of these K-formations were eventually returned to their original blue-white livery in 2010.
By the mid-2000s, a total of twelve 4-car "P-formations" and six 6-car "K-formations" was obtained by rearranging 100 Series sets. These did not have double-decker cars nor green cars (of any kind: single or double-deck): all of these, togheter with the rest of the surplus cars, were scrapped.
Eventually, with the arrival of yet more and more 700 Series sets, taking over the Nozomi and Hikari services, the 300 and even the 500 Series were cascaded to Kodama services to replace the remaining ageing 0 and 100 Series sets, with the last 0 Series set being retired from service in late 2008. 
Three years later, the last 4-car P-formation 100 Series was retired, with the last run on the 11th of March 2011. One year later, the last 6-car K-formation was retired as well, with the last run on the 16th of March 2012, bringing the career of the 100 Series to an end.
Upon retirement from regular services, set P-2 (one of the 4-car P-formations) was moved to JR West's Shinkansen training center at Shimonoseki, where it was used as a dedicated training set until March 2013.
As of today, no 100 Series set is in service anymore, but three cars have been preserved: one cab car from set K-54 (formerly set V-3), preserved at JR West's Kyoto Railway Museum, and one cab car from set X-2 and one double-decker buffet car from set X-1, preserved at JR Central's SCMaglev and railway park in Nagoya.