Made in collaboration with TreinspotterJeffrey/Sanyo J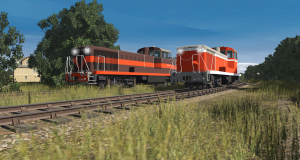 Left: DE10 1014 – Right: DE10 1535
DOWNLOAD All the necessary dependencies are either included in this package or are avaible on the DLS.
In 2004 the Mooka Railway purchased a DE10 second-hand from JR East, wich was intended to replace the railway's DD13 55 as the "SL Mooka" helper locomotive. DE10 1535 entered service on the Mooka Railway in late August 2004 and it's still in service as of today, painted in it's JNR-era livery, assisting Mooka Railway's venerable C12 66 on "SL Mooka" services, or "standalone" on charter services (hauling the same 50 Series cars of the "SL Mooka").
While Mooka Railway's only operational diesel locomotive is DE10 1535, the company also owns atleast two more DE10s: nos. 1014 and 95, wich were purchased as spare parts donors (and thus never ran a single millimiter on the Mooka Railway under their own power). After being likely stripped of their internal components, both locomotives were put on display at Mooka station, with unit 95 having retained it's JNR-era livery, while unit 1014 was repainted into a fictious brown livery with red bands.