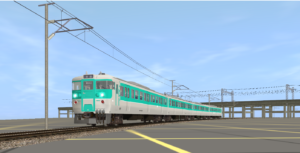 DOWNLOAD This is a reskin of Keinchiro's 113 Series upgraded by Hirochi. All the necessary dependencies are included in this package or are avaible on the DLS.
Refurbished 113 Series trains were introduced on the newly-electrified Obama Line in 2003, to supplement the single-car 125 Series on peak-hours duties. A total of three 4-car sets, numbered from W1 to W3 entered service in March 2003, painted in an unique cream and teal livery with a very thin white line.
Soon, as JR West noticed that 4-car trains were oversized for the rural Obama Line needs, even during peak hours, their career prospect shortened, but it was ultimately cut short by the 2005 Amagasaki Derailment, as JR West had to call back all trains fitted with ATS-P back to Osaka area lines to temporarily replace the newer trains that weren't fitted with the saftey system.
As such, in 2005 an Obama Line set was repainted and lent to Miyahara Depot, where it was used on Fukuchiyama Line duties.
By 2006, JR West decided to reassign all Obama Line services to the 125 Series only (wich were to be coupled in 2-car sets for peak-hour duties), retiring the remaining two 113 Series sets by Autumn 2006, with the last run of a cream and teal colored one on the 20th of October.
After being retired from Obama Line duties, the remaining two 113 Sets were repainted and transferred to the Kyoto depot, where they are now in use on Sagano Line (Kyoto-Sonobe) duties.
Trivia#1
The unique cream and teal livery was nicknamed "Cream Soda" by railfans, similarily to how the 113 and 115 Serieses' "general" refurbished livery was nicknamed "Café au Lait".
Trivia#2
Between 2009 and 2010, the 125 Series were again, briefly, supplemented on Obama Line peak-hour duties by 521 Series trains formed in 2-car sets.
Nowdays all the regular Obama Line duties are back again in the hands of the 125 Series, altough 521 Series trains might still be seen operating occasional or temporary services.