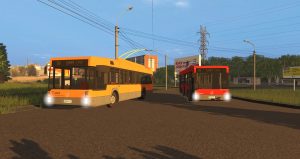 EA812 trolleybus on the left and U812 conventional diesel bus on the right.
DOWNLOAD All the necessary dependencies are either included in this package or are avaible on the DLS.
By the late 1990s, RATB, the municipal transport company of Bucharest, was looking to modernize it's bus and trolleybus fleet, wich was then still mostly formed of the recent, but obsolete and sub-standard DAC-type busses made by Rocar during the "Austerity" period thruought the 1980s and a plethora of second-hand busses purchased from various countries, including some Sauer busses from the 1960s purchased in the mid-1990s and converted into trolleybusses and some Savcem SC10U busses donated by the Paris RATP.
This modernization was being carried trough primarily two sources: the hungarian Ikarus, wich delivered 177 Type 260 diesel busses between 1991 and 1993, and 195 of thevery modern Type 415T trolleybus, delivered starting from 1997, and the domestic romanian Rocar, wich had acquired the production license for the Type U210 bus from the Italian DeSimon, and by then had already delivered over 340 busses derived by the U210, plus a single trolleybus (also derived from the U210) as a demonstration vehicle.
Rocar, unfortunately, due to the post-1989 market shrinkage and correlated financial difficulties of the transportation companies, wasn't doing particularily well financially, and was in danger of bankruptcy. The company needed quickly something that could give it back a semblance of a "competitive edge" over the other manufacturers, both the foreign ones and the newly sprung-up domestic ones.
A possiblity was located in what was, at the time for eastern europe, the almost-untapped world of low-floor busses: no eastern european (and absolutely no domestic romanian) manufacturer had a low-floor model in it's lineup, and most eastern european companies were not in the financial position to afford a conspicuous purchase of the slightly more expensive western european busses.
Thus, Rocar set forth to acquire production licenses for a low-floor bus, and thanks to an established businness liason with italy (trough DeSimon), Rocar was able to land a cooperation agreement with the Autodromo company of Modena, wich granted Rocar production licenses for it's Busotto line of low-floor busses, at the time the first ones of such kind in Italy, and among the first overall in europe outside germany and switzerland.
As a way to test the "market response" for the new busses, in 1998 Rocar initially produced a diesel bus prototype, Type U812, painted red, and with a MAN engine and a trolleybus prototype, Type EA812, painted orange (in a shade very similar, almost identical to the "Arancio Ministeriale" that was the standard color at the time for Italian urban-service busses) with Kiepe electrical equipment (as with all other Trolleybus Busottos), with mass production to eventually follow.
After a presentation at that years' Bucharest Auto Show, both vehicles entered service for RATB in 1998, being assigned numbers 98 (for the diesel bus) and 7460 (for the trolleybus) and allocated to Militari depot.
Both vehicles had very good results in service, but unfortunately no orders were placed, as depsite the gradually-improving financial status, RATB still couldn't afford for a full-scale-production-type order, and any other romanian pubblic transport company was in an even worse situation. 
This was nothing short of a death spell for Rocar, whose survival depended on the success of the two Busottos. Thus, after a last ditch attempt for a similar collaboration with the polish Solaris, for a possible license-manufacturing of their successful Urbino model, Rocar went out of businness, declaring bankruptcy in 2002 and being definitely dissolved soon thereafter.
The two Busottos managed to outlive Rocar by a few years, being used in regular service thruought all the 2000s. However, by the 2010s, with the influx of more modern low-floor busses, the two Busottos began to be increasingly sidelined. Around 2013 the EA812 trolleybus had to be withdrawn from service after having suffered a serious flaw to it's electrical equipment; as repairs were deemed uneconomical, it was simply decided to abandon it in a corner the depot grounds.
Soon after, in June 2014 the Type U812 diesel bus was retired as well, after having been involved in a crash with a car. In this case as well repairs were deemed uneconomical, and it too was abandoned in a corner of the depot, thus ending the short, interesting but rather sad history of the only two romanian Busottos after around 15 years of service.
Bonus video:
A rather lucky catch! The two Rocar Busottos meeting at Piața Romană.
Bonus Links:
Picture gallery and discussions regarding both the U812 and the EA812 on a (romanian-language) transport enthusiast forum.