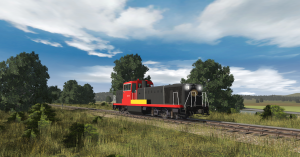 DOWNLOAD All the necessary dependencies are either included in this package or are avaible on the DLS.
The famous Sagano Scenic Railway owns only one locomotive: DE10 1104, wich the railway had recieved from JR West, it's parent company. DE10 1104 was one of the many surplus DE10s bound for the scrapyard in the late 1980s, but in 1990 it was selected as the locomotive for the newly-formed Sagano Scenic Railway, and thus was repaired and repainted in a mostly black livery with red and gold portions. It re-entered service on the Sagano Scenic Railway on the 27th of April 1997, the day that the railway opened.
DE10 1104 is currently still in service as the Sagano Railway's locomotive of choice, hauling five "Torokko" cars converted from 2-axle gondola cars. If DE10 1104 is not avaible for any reason (such as a fault, or more commonly, scheduled maintainance or overhauls) it will be replaced by another DE10, specially designated unit 1156, wich altought it's fitted in the same livery as the former one, is owned directly by JR West rather than by the Sagano Scenic Railway itself.