Made in collaboration with TreinspotterJeffrey/Sanyo J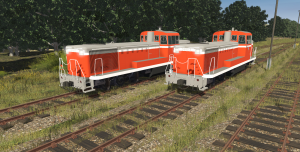 Left: DE65 3 – Right: DE65 2
DOWNLOAD All the necessary dependencies are either included in this package or are avaible on the DLS.
DE65 2 was the first DE65 (the "industrial" version of standard DE10s) to arrive on the Sendai Rinkai Railway, in November 2011, as part of the railway's efforts to rebuild itself after the devastating 2011 Tohoku Earthquake and Tsunami, wich washed away most of the railway's small network and damaged beyond repair a considerable part of the railway's fleet.
The locomotive was actually owned by the Akita Rinkai Railway, wich loaned it to the Sendai Rinkai Railway for a symbolic price. Originally a Niigata Rinkai Railway locomotive, wich the Hachinoe Rinkai Railway had purchased in 2003 after the closure of the former, upon it's arrival on the Sendai Rinkai Railway, DE65 2 was repainted in the JNR-era standard diesel locomotive livery (red and grey with a white "separatory" line – during the era of the Hachinoe and even before the Niigata Rinkai Railway, the livery was largely identical to the JNR one, except the "separatory" line, wich was yellow instead of white).
In March 2017, the Sendai Rinkai Railway finally bought DE65 2 from the Hachinoe Rinkai Railway, and in 2019, another DE65 arrived: DE65 3, formerly JR East Aomori Depot's DE10 1536. Both locomotives are now in regular service, and the Sendai Rinkai Railway has already announced that it will purchase yet another DE10 locomotive (this time keeping the original designation) from the soon-to-be-closed Akita Rinkai Railway.