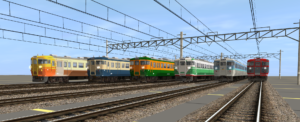 From left to right: Set S9 in TRA's EMU100 livery, Set S26 in the Yokosuka Livery, Set S3 in the Shonan Livery, Set S7 in the "1st Nagano Livery" and the two "standard liveries": the provisional "2nd Nagano" one and Shinano Railway's own one.
DOWNLOAD This is a reskin of Keinchiro's 113 Series upgraded by Hirochi. All the necessary dependencies are included in this package or are avaible on the DLS.
With the opening of the Nagano Shinkansen in 1997, the steeply-graded and very difficult Usui pass section of the Shin'etsu Main Line was closed, truncating the line altogheter, wich has since been divided into two sections: the southern section (Yokokawa to Takasaki) remained in ownership by JR East, while the northern section, between Karuizawa and Nagano was handed over to an ad-hoc company managed by the Prefectural Government of Nagano: Shinano Railway.
The Shinano Railway was tasked of running the remaining local services (all rapid services had been taken over by the Shinkansen) on it's portion of the Shin'etsu Main Line, now renamed the "Shinano Line". Besides the line, Shinano Railway inherited also the trains that ran on the Shin'etsu Main Line: a small fleet of eleven 115 Series 3-car sets and four 165 Series 3-car sets (numbered S1 to S11), all transferred from JR East's Nagano Depot. Repainted in a modern-looking dark red and dark grey livery, Shinano Railway's 115 Series (re)entered service on the 1st of October 1997, the day when the Shin'etsu Main Line transfer was finalized.
In 2015, with the Nagano Shinkansen being renamed as the "Hokuriku Shinkansen" and extended to Kanazawa, another portion of the Shin'etsu Main Line was handed over to Shinano Railway: the section between Nagano and Myoko-Kogen Station, on the prefectural border between Niigata and Nagano prefectures.
("conventional" main line sections paralleling the newly-opened Hokuriku Shinkansen extension were handed over to railway companies managed by the prefectural governments, and as such, the operational areas of these companies roughly coincides with the prefectural borders. As a matter of fact, the section in Niigata prefecture was handed over to Echigo-Tokimeki Railway, the section in Toyama Prefecture was handed over to Ainozake-Toyama Railway, and the section in Ishikawa Prefecture was handed over to Ishikawa Railway).
To operate local services on the newly-acquired portion, renamed the "Kita-Shinano Line", Shinano Railway inherited yet another small fleet of five 115 Series 3-car sets, numbered S12 to S16, and seven 2-car sets numbered S21 to S27.
Initially, these provisionally ran in JR East's "2nd Nagano Livery", with the exception of the Shinano Railway's logo on the front; they were reapinted in the standard Shinano Railway livery.
With JR East's 115 Series fleet getting thinner by the year, Shinano Railway experienced a surge in popularity with railfans, as it now was one of the last strongholds of the 115 Series, and the most easily accessible one from Tokyo.
This popularity had been very well recieved by Shinano Railway, wich to attract more railfans, started repainting it's 115 Series trains in long-defunct liveries, starting with Set S7 in April 2017, wich was repainted into the "1st Nagano Livery", followed by Set S3, repainted into the famous "Shonan Livery" in May and finally, Set S26 was repainted into the "Yokosuka Livery" in October 2018.
Another Set in a special livery was added to the other three in November 2018, but in this case, the livery was a real one-off one: as part of a collaboration between Shinano Railway and the Taiwanese TRA (Taiwan's National Railway Company) Set S9 was repainted in a special livery based on the one carried by the TRA EMU100 Series, a limited express EMU wich entered service in 1976 on TRA's newly-electrified West Coast Main Line. In exchange, TRA repainted one of it's EMU500s (Set No.33) commuter EMUs in Shinano Railway's dark red and dark grey livery.
As of today, all of the "trains in special liveries" are still in service (both Shinano Railway and TRA ones), but with Shinano Railway's 115 Series reaching well over 40 years of age, the introduction of a replacement had to be expected.
After a few years of evaluing wether to buy sure and cheap second-hand stock or make a gamble and buy new trains, Shinano Railway eventually went for the latter, introducing it's "SR1" Series in 2020. 
Based on JR East's E129 Series (wich had already replaced most 115 Series trains on the Joetsu and in Niigata prefecture), an initial batch of three 2-car sets entered service on the 4th of July 2020.
Shinano Railway is planning to introduced twenty-six SR1 Series sets to replace the 115 Series by 2026.
Trivia:
Taiwan's TRA is no stranger to collaborations with Japanese Railways. "Livery exchanges" have been made between TRA and Tobu Railway, Keikyu, JR Shikoku and most recently, in 2020, Hiatsu Orange Railway.