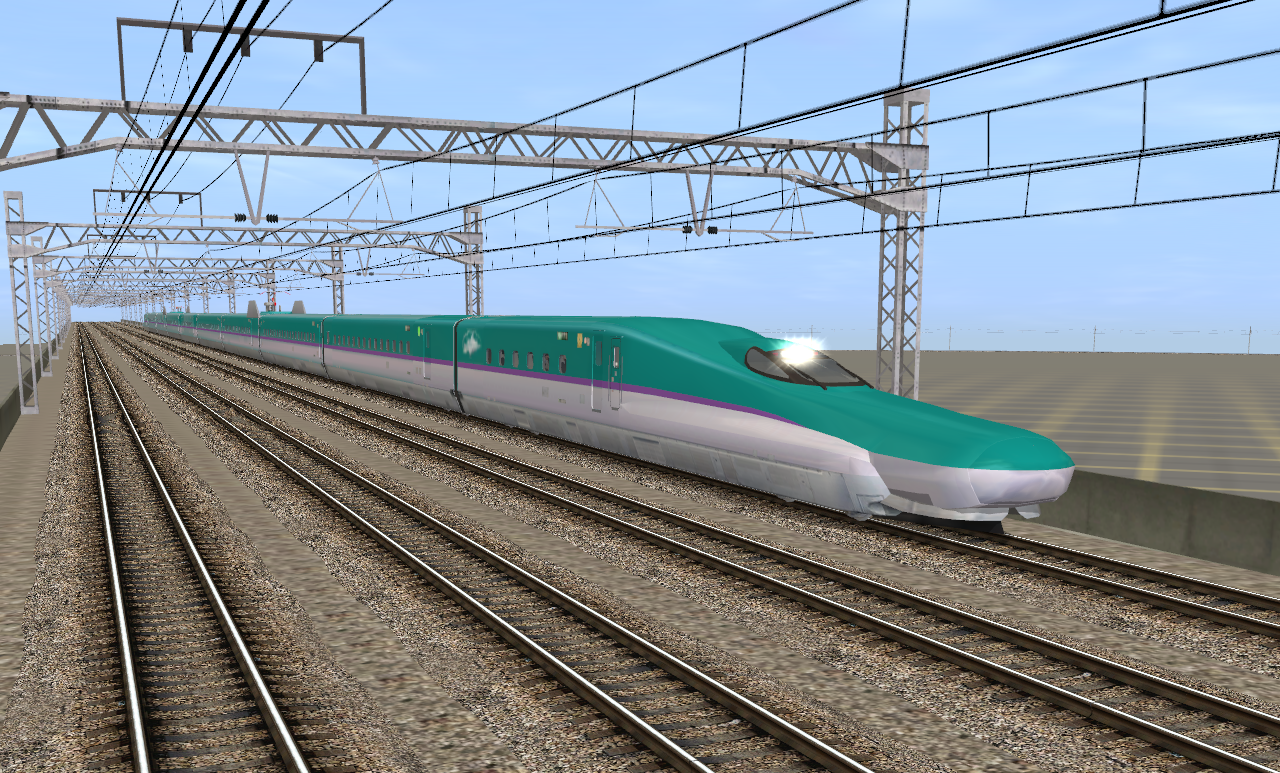 DOWNLOAD: This is a reskin of Hirochi's E5 Series Shinkansen, avaible on the DLS. All the dependencies are the original ones.
Hokkaido gets it's Shinkansen!
The H5 series was introduced in 2016 for services on the newly opened Hokkaido Shinkansen line, connecting (Shin) Aomori to (Shin) Hakodate via the Seikan Tunnel, wich had to be double-gauged to accomodate both the JR's mainline 1067mm and the Shinkansen's standard gauge, and re-powered from the JR mainline 20 Kv AC (the standard for Hokkaido and Tohoku areas, also used in Kyushu) to the Shinkansen's 25Kv AC.
At present the Shinkansen line terminates at Hakodate, with the section all the way to Sapporo under planning, wich will eventually open by 2030.
The H5 series was built by Hitachi and Kawasaki Heavy Industries, and it's identical to JR East's H5 series, wich was introduced in 2011 for services on the Tohoku Shinkansen.
Due to the harsher Hokkaido climate, a few modifications had to be made; notably, the underframe material changed from alluminium to stainless steel (better underframe electronics isolation), an improved snowplough, and stronger rubber aereodynamic sealing connections between cars.
Only 4 ten-car sets were built, for a total of just 40 veiches, making the H5 series the smallest fleet of a non-prototype shinaknsen train, and JR Hokkaido the smallest operator of a Shinkansen Line.
They are used togheter with JR East's E5 series on Yamabiko, Hayate, Nasuno and Haybusa services, from Tokyo to Shin-Hakodate-Hokuto.
Trivia:
…at quite the cost…
Altough liked by kids and young railfans, by some more "traditionalists" railway enthusiasts, this train is almost considered the "murderer" of a huge variety of iconic JR East (and former JNR) conventional services, namely the famous (and loved) Cassiopeia, Hokutosei and Twilight Express sleeper trains and the Super Hakucho rapid services.