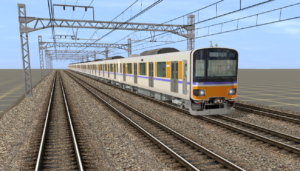 This is a reskin of Hirochi's Tobu 50000 Series, avaible on the DLS.
It must be installed first in order for this reskin to work.
DOWNLOAD: The 50090 Series was introduced in 2008 on the Tobu Tojo Line for use on the newly-introduced "TJ Liner" services – reserved-seating rapid commuter trains on the Tojo Line.
It is a derivative (and part) of the broader 50000 Series family, Tobu Railway's new standard commuter train intended to replace most of the older stock operating on main line services. As such it is nearly identical to the standard 50000s, but it's special fetaure is that it is convertible: from transverse to longitudinal seating and vice-versa depending on the services operated – the seats rotate with a flick of a switch!
The 50090 Series is also fitted in a livery identical to the rest of the 50000 Series family, except for a distinctive thin blue line below the windows, wich is used to denote cross-seating trains.
Four 10-car sets were built in early 2008 by Hitachi (the 50000 Series is part of Hitachi's "A-Train" family), and they entered service in mid-2008. Two more set were manufactured and delivered in 2010 to increase the service's frequency.
Currently, the 50090 Series only operates on the Tojo Line, on morning Rapid Express and evening TJ Liner services with seats in the transverse configuration and on daytime "conventional" rapid services with longitudinal seating.