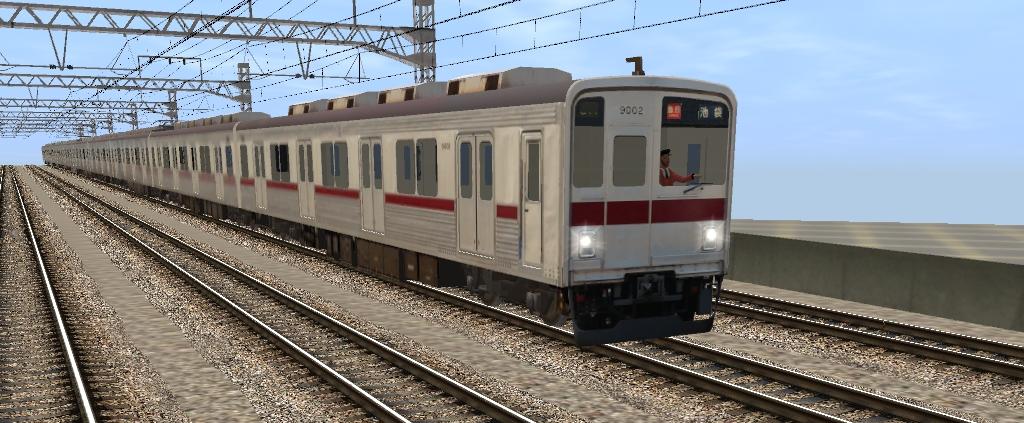 DOWNLOAD All the necessary dependencies are either included in this package or are avaible on the DLS.
The Tobu 9000 series was introduced in 1981, ahead of the planned start of inter-running services between the Tojo Line and the TRTA Line No.8 – Yurakuchō Line.
It was Tobu's first new commuter train in 18 years (the last being the 8000 series introduced in 1963 and built until 1983), it was also Tobu's first stainess-steel train and also the first one using the armature current chopper control.
A prototype set, 9101F, entered service in 1981, with the full-production trains being delivered in 1987.
One more set was put in service in 1991 and two in 1994, coinciding with the opening of the Yurakuchō New Line (wich would later become the Fukutoshin Line in 2008), bringing the total to 10 ten-car sets.
These later two are classified 9050 series and have improvements similar to those on Tobu's 20500 series, such as a GTO-VVVF inverter control and a new sides design.
With the opening of the Fukutoshin Line in 2008 and the connection of Tokyu's network to the new Shibuya underground station in 2013, Tobu's 9000 series were renovated (destination signs and headlights changed to LED, added the required capability to run with Tokyu's proprietary ATS system and the driving cabs upgraded to a design similar to Tobu's 50070 series, used togheter on the same duties) and started trough-running the Fukutoshin Line, the Tokyu Toyoko Line and the Yokohama Minatomirai Line, all the way to Motomachi-Chukagai station on both express and local services.
Currently there are no plans to replace the 9000 series.
Trivia:
The prototype set 9101F was built by three different manufacturers: four cars (9101, 9201, 9301, 9401) were made by Tokyu Car Co. (nowdays J-TREC), two cars (9501 and 9601) were made by Fuji Heavy Industires and the remaining four (9701, 9801, 9901 and 9001) were made by Alna Sharyo.
Bonus picture from metroarchive.jp :
The start of inter-running services in 1987 : Tobu 9000 series on the Shin-Kiba-bound (via Yurakuchō line) track, TRTA 7000 series on the Shinrin-Koen-bound (via the Tobu Tojo Line) track. Cutting the ribbon are the chairmans of both companies.
At the left of the 7000 series train, you can see TRTA's unique flag, used in evry inauguration since the opening of the Marunouchi line in 1954.